Delicious spiced red lentil & carrot soup
Delicious spiced red lentil & carrot soup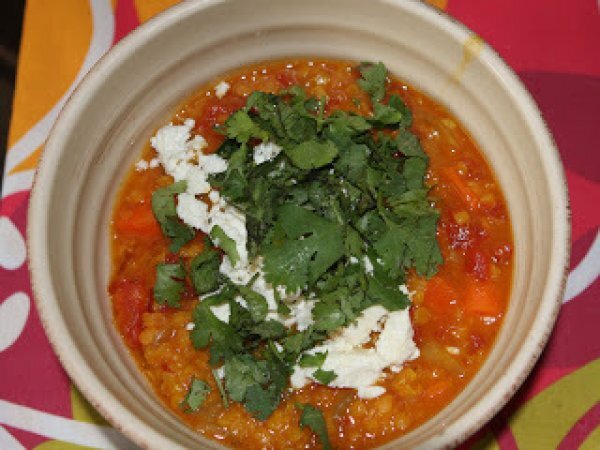 After a long day of work, I tend not to be in the mood to cook and usually snack on not so very healthy food.

Then I realized that having a good soup in the freezer would solve this problem.

So, I started to make batches of soup to freeze for my next lazy evening dinner.

Here is a recipe of a delicious Spiced Red Lentil & Carrot Soup.
Ingredients
---
---
3 gloves
garlic
, finely chopped
---
1 tablespoon finely grated
ginger
---
---
1 cup red lentils
---
3 cups vegetable stock
---
olive oil
---
salt and pepper
---
chili flakes
---
ground turmeric
---
ground cumin
---
ground coriander
---
feta cheese
---
cilantro
Preparation
Stir onion, garlic and ginger in olive oil
Add spices
Add carrots
Add vegetable broth, tomatoes and lentils
Simmer for about an hour
Season to taste
When ready to eat, put in a bowl and garnish generously with feta cheese and cilantro.
Questions:
Related recipes
Recipes