Masala spiced roasted beetroot lassi
Masala spiced roasted beetroot lassi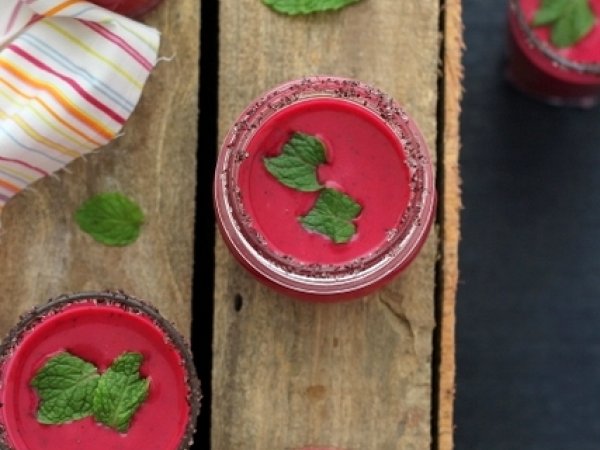 A lusciously delicious and healthy lassi
Ingredients
2 medium sized beetroots
---
11/4 C Sour
Yogurt
(or more if required)
---
11/2 C Water (or more if required)
---
---
---
11/2 tsp
Cumin
(roasted and coarsely ground)
---
---
1/2 tsp dried mint powder
---
1/2 tsp garam masala (mine is mild)
---
3/4 - 1 tsp Sumac
---
Lots of ice
---
Mix together and place in a shallow dish
---
11/2 tsp Sumac
---
1 tsp Sugar
---
1 pinch Black Salt
Preparation
Wash and scrub the beets well, Place the beets on individual foils and close the top of the foil by pinching it. Place the foil encased beets in a 200 degree C oven and roast for approx 50-60 minutes or till done.

When cool, peel the beets (Beets bleed color and you need to be careful as it leaves stains on clothes)
Chop the beets and blitz them. Add mint, ginger and yogurt and blitz again.
Add water and blitz one last time. Adjust the amount of water and yogurt.
Sieve the beet mint yogurt mix (optional). Adjust the amount of water.

Add salt, black pepper, garam masala, sumac and cumin. Adjust the amount of spices.
For serving, moisten the rim of the glasses in which you intend to serve the lassi with water. Over turn the glass in the sumac, sugar and black salt mix ensuring that the rim takes on as much mix as possible.

Pour the lassi into glasses and serve topped with ice.
Garnish with mint leaves.
Questions:
Related recipes
Recipes