Masala dosa
Masala dosa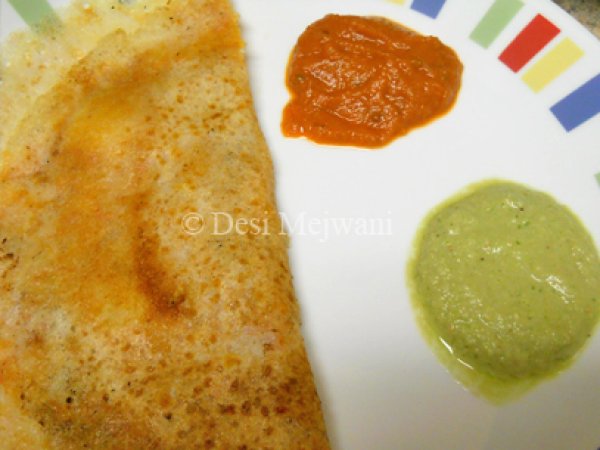 I think mostly every Indians like Masala Dosa. And it is very popular in South India as breakfast dish. There are many versions of making this dosa. Usally in north India they just fill potato sabji as filling where as in south India red chili chutney which is smeared on the dosa before putting in the potato filling.This recipe is combination of both to give ultimate perfect blend taste of both the formats.
Preparation
Method for Dosa Batter
Thoroughly wash the rice and urud dal and soak rice and urad dhal seperately in water for atleast 7 hours.
Grind them seperately, and mix them together with salt. (use your hand to mix well)
Keep it overnight for fermentation
Preparation of Masala
Boiled the potatoes and mash them well and keep it aside. Cut the onion and tomatoes into small pieces & keep it aside.
Grid the gravy ingredients items in a blender in a much smoother format.
Heat a thick pan with 2 tsp of oil and add the onion and tomatoes, salt and turmeric powder & fry them well, once done add the mashed potatoes and put the gravy mixture and mix well & cook for 5 mins. Your masala is ready now.
On a flat frying pan, the batter has to be poured and spread as a thin round. Add a teaspoon of cooking oil/ghee/butter to one sides of the Dosa.
Turn in to other side, with the table spoon spread the masala over the half part of dosa
Cover another half over it. When it turns golden brown, its ready to be taken off the frying pan and ready to serve too. The thinner and crispier the dosa, the better it tastes!
Questions:
You may like
Recipes