Oyster mushroom and gruyere tarts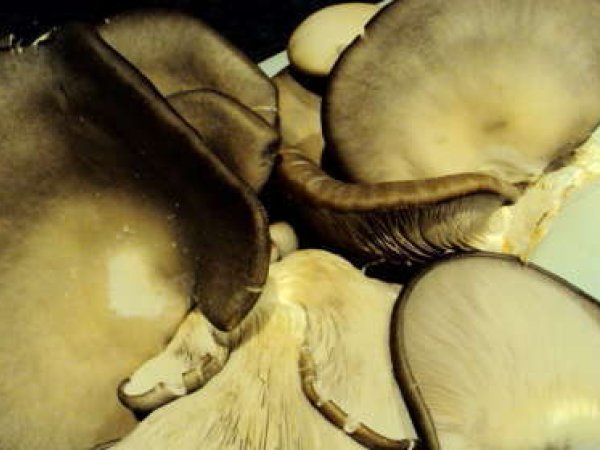 Preparation
For some people mushrooms are a hard sell. But when you wrap them up in phyllo dough and drench them is garlic and gruyere cheese it's another story completely. I bought the most incredible oyster mushrooms at DGM (Dufferin Grove Market) and decided they would be perfect for appetizers at the cocktail party I had last Friday. The mushroom farmer at the market advised me to roasted them (as they need less oil in the oven) but I knew that these things were going to be chopped down, and simmered with garlic and wine and other deliciousness and would be perfect in a sautee pan.
Oyster Mushroom and Gruyere tarts
PREP: Sautee chopped garlic in olive oil on medium heat, add mushrooms and cook down until they become dry, add hard butter and continue cooking until dissolved. Add splash or brandy or wine (red or white) and splash of chicken stock - just enough to keep the mushrooms wet. Add thyme at the very end, and do not cook it more then one minute. If too much liquids are added sprinkle a little flour on the mixture to thicken the gravy. These should not be too wet when wrapped in the dough. Cooking time about 7- 10 minutes. Remove from heat, and chill, can sit over night, but must come to room temp before baking as well as the cheese.
PRE HEAT: 350 degrees on the oven.
PREP: Unwrap phyllo, with plastic wrap under and over pile, also place a damp cloth over the phyllo because it dries out quickly. Have a bowl or olive oil and melted butter ready to brush the phyllo before floding. Only take out one or two sheets at a time and brush them immediately with oil. Do this with 3-4 sheets for each. Cut phyllo in to 4 inch squares or so - these will make bite size tarts. Place dollop of mushroom mixture in the middle of the phyllo place thin piece of gruyere on top. Fold the corners of the phyllo and gather them at the top, pressing them so they stay together. brush with butter and bake until golden.
Questions:
You may like
Recipes
Related articles