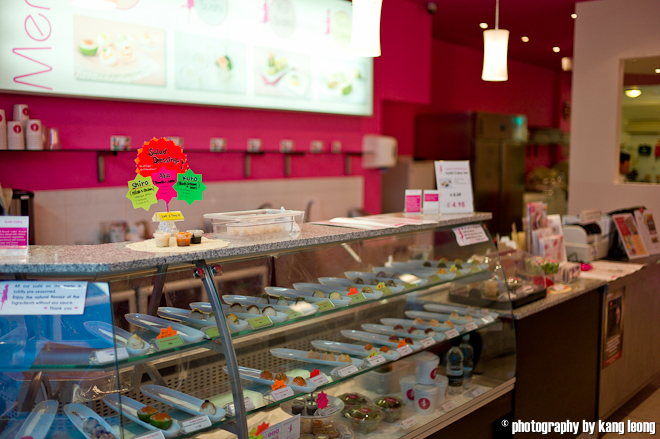 How many sushi bars do you know, play bossa nova in the background? Out of that lot, how many deliver to your doorstep? And just how many sushi bars boasts an all-female run operation? Assuredly, sushi bars that satisfy all the above are rare, and rather rhetorically (and by way of an introduction), Sushi Cafelicious is a first for many things. Primarily, Cafelicious does take-away and also delivers. Based in Golders Green, the outpost is also quite spacious, it has a bar counter which can cater to roughly 12 guests, if you so choose to eat in that is. This sushi take-away is relatively new, opening its doors in September this year, it is a spin-off from a well-regarded (though admittedly, I've not been) sushi restaurant (Also in North London) called Cafe Japan.
Naturally, Guy & co were the firsts to cover it, and that's where I first heard of it, and while the outpost is a little far, it certainly carries enough USPs to intrigue the average sushi hunter. Allow me to elaborate.
The emphasis on the all-female led kitchen is significant, especially the role of the Itamae, usually a male dominated role, Cafelicious is looked after by a female sushi chef, Miho. She who was on point during my visit to oversee her beloved cafe. Gregarious personality. The emphasis is strong because, you could easily be mistaken to have walked into a snog, what with the excessive pink, but it does blow refreshing air across conventional sushi counters. I felt pink and happy and – strangely – clean, during this visit.
Like many of the new sushi bars that have opened this year (2010), Cafelicious offerings up the ante on the creative front but the bottom line is kept well in check. Seriously, how many sushi bars do you know of with starting sushi prices at 30p?
Yes, you read that correctly, the cheapest nigiri starts at 30 pence..!
Cafelicious is also the only other place that I know of which offers Temari sushi, or Ball sushi , which is basically nigiri formed into the shape of rice balls. Yes baby, they are photogenic.
8 temari sushi, £7.10.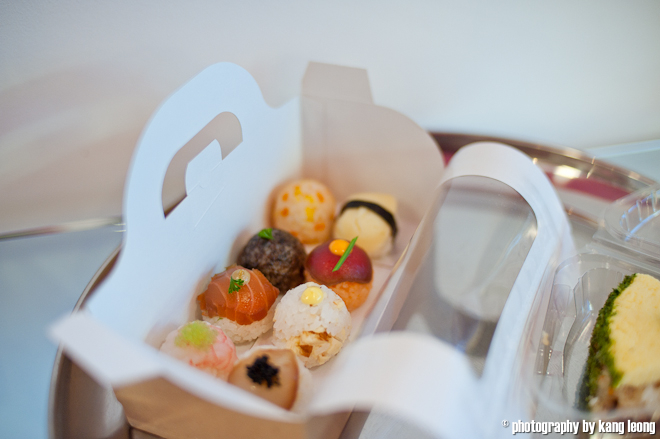 You better believe it. 8 pieces of fabulously crafted temari sushi for under a tenner. What's that I hear you utter… £60 at Yashin? Pretty ain't it?
First of all, let's get the obvious out of the way; Cafelicious isn't punching in the same category as the likes of Yashin or Shiori, who make your sushi to order, and garnish with glitz and technical artistry, Cafelicious is a quick fix, budget offering, competing against the likes of Yoshino, Yo! and Wasabi. In that regard, I think it is flying way, way above the radar. This is the B-2 stealth bomber of the sushi take-away world. Kaboom.
The temari selection is intriguing. This is what I ordered, from bottom up:
Sweet prawn garnished with wasabi and fish roe, 80p.
Scallop marinated with Tosa Soy sauce , garnished with squid ink seasoned fish roe, £1.20.
Salmon & Avocado, marinated with Tosa Soy Sauce, £1.20.
Egg & ginger, 80p.
Brown mushroom garnished with Garlic Cream Sauce and Parsley, 80p.
Tuna with spicy rice (AWESOME) £1.20.
Miso Marinated Mozzarella, 80p.
Takuan (yellow pickled radish) and Yama Gobo (Burdock), 30p.
Apologies for making you read a list, but the point I'm trying to make is that this is a enormously creative set of flavour combos, for something that costs so little money! Do a double take on the pricing…crazy cheap no??
The sushi is pre-prepared and were plucked from the refrigerated glass counter they were stored in. So understandably, the rice was a little cold, and flavours were a little numb. However, I did order it for delivery the next day, and when the sushi warmed up a little, the rice does soften to something a bit more appreciable.
The temari selection felt rather like purchasing a box of luxury chocolates, or even a box of luxury macarons, in the way I hand picked the ones I wanted, and they have been meticulously packaged too. It lends a fun factor to the overall experience. Yeah, bring out the 12 year old giggly school girl why don't we.
Most importantly, the combos were thrilling. Tuna, with a sancho pepper spiced rice got the endorphins sparking, gorgeous chopped brown mushrooms with a hint of garlic, like a pate on a rice ball. The beautifully sculpted marinated scallop with fish roe dipped in squid ink, mimicking the look of pricier caviar – I would have easily partly with more money to eat this sushi. Notice how I haven't mentioned soya sauce, and like Yashin, the sushi comes pre-marinated to the teeth, so you eat them without dipping, supposedly, this cuts down on the sodium intake.
Are the alarm bells going off in your head going off yet? Yes. These would be a perfect alternative for the lunch hour if you happen to be needing some ideas for a corporate lunch.
And like the way you would pluck a perfect Pierre Herme macaron from the box, I felt the same about this selection.
And it was £7..!!
Seconds, £5.50.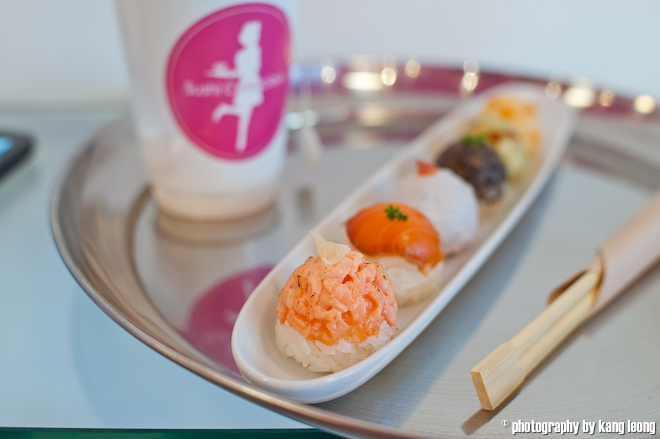 With the quality being so high, and the prices being so low, I went for more.
Aburi Seared Salmon, £1.20.
The Italian, mozzarella & dried tomato, rice mixed with basil sauce, 80p.
Squid & Plum sauce with Sushi rice seasoned with Yukari (Japanese basil), 80p.
Eel, garnished with Black Sesame Seeds, 80p.
Salmon marinated with Tosa Soy sauce, 80p
Seared and chopped salmon, giving it a smooth texture, that was just fabulous. I could still taste the flames from the torching – like a flaming salmon and cream cheese pate. The Italian was hugely enjoyable, it was much like a reverse arancini, sun-dried tomato and pesto flavoured, like a ball of risotto, very appetizing. I loved the eel, chopped, mixed in with the rice, it was a cutesy amuse-rendition of a classic una-don. About the only thing I didn?t enjoy was the Squid and plum sauce, the plum sauce was screeching a little too sharp for my ?buds, but for you lovers of zesty things, you?d find it refreshing.
Soft Shell Crab, Rocket, Cucumber, Takuan (yellow pickled radish), Yama Gobo (burdock), Okura, Egg, Yuzu, Fish roe, White sesame. £1.50.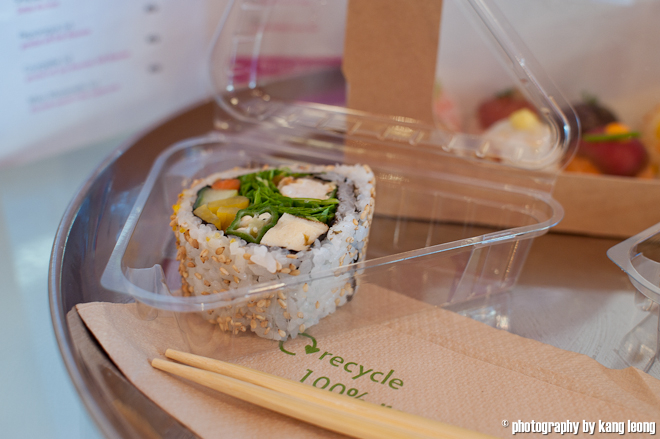 I also tried their giant maki rolls, £9 for a full one, and £1.50 for a slice. Note the high degree of brilliant vegetarian friendly ingredients stuffed into the roll sushi. Playing to the strengths of the health-factor associated with sushi, Cafelicious makes a bold effort to enforce it in its recipes. And it is one of the few places in town, which is vegetarian friendly, without compromising on umami.
Sushi Cake, £1.50 per slice.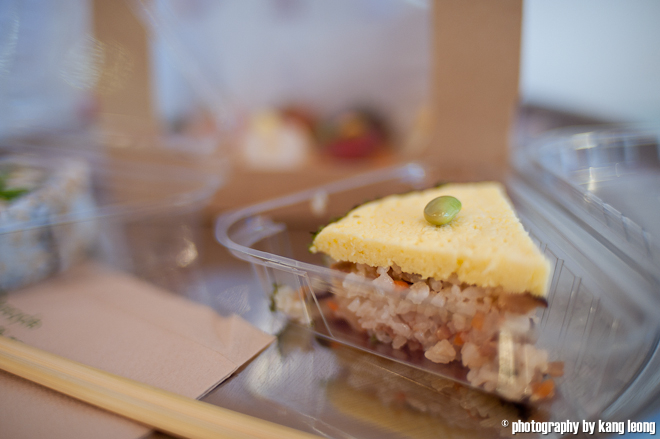 Another of its USP is this savoury sushi cake. £10 for a whole one, measuring roughly 8in in diameter, or £1.50 per slice. Made with brown rice, Shiitake mushroom, Bamboo shoot, Carrot, Deep-fried bean curd and topped with a cakey omelette. It's a pretty substantial portion for £1.50, and I think it helped round out the meal nicely, if a little gimmicky.
All in all, I paid about £16 for this lunch, what awesome value. The following day, I called for delivery. They delivery to 9pm Tue-Sun, but you need to call before 5pm – the delivery arrived on time at the requested time (7pm), just in time for X factor results, and they even threw in a 20% discount voucher.
I think Sushi Cafelicious is a wonderful addition to North London, and for take away sushi, this is top-end stuff. Imaginative, thought going into its packaging, making this a very saleable end product, at a desirable bottomline.
I am usually the ardent carnivore, but I think this is one place that will keep vegetarians happy as well. Healthy and delicious, two of sushi's greatest strengths. As a business, I think Cafelicious has caught on to an intriguing model, which I am hoping can be successful, because I really like this place. As a catering option – which I think is where it should be aiming – targeting the corporate and party planning demograph, I think it is a unique alternative. If you happen to be managing the lunch budget for the next big meeting, this is something to consider. For a light finger food lunch, it works out to roughly £8 per head – that's how much two tepid corporate sandwiches cost. Party platters start at £25 for groups of 5-7..! Check out the aggressive prices.
…and I would be excited if our secretary orders a platter of temari for the next meeting, no more tuna and cucumber on brown bread, please…
A dedicated chef supported by a hard working team, turning out quality sushi, as you'd expect from a Japanese operation really. Although, this one has an element of fun attached, there is definitely enthusiasm in the atmosphere and it translates to the creativity of the food. I really like the fact that it is so far removed from the seriousness of this genre of Japanese cuisine. Such a refreshing change, kudos to Chef Miho.
Free deliveries to NW2, NW3, NW4, NW6, NW8, NW9, NW11, N2, N3, N6, N12, W1, W2, W3 if you spend £15 or over. Well? 020 8381 4704. Call.
The Gist.
Sushi Cafelicious
Sushi Cafe & Takeaway & Delivery, £10pp (I'M SERIOUS)
2 North End Road NW11 7PH
Tel : 020 8381 4704
Underground : Golders Green
For more photos, have a look at my flickr set.
Take it away: London-eating ; Kei Kukuchi for Time Out London ; Daily Candy
Did you enjoy reading this? You can subscribe to the Newsletter. Alternatively, you can subscribe to the RSS feed.