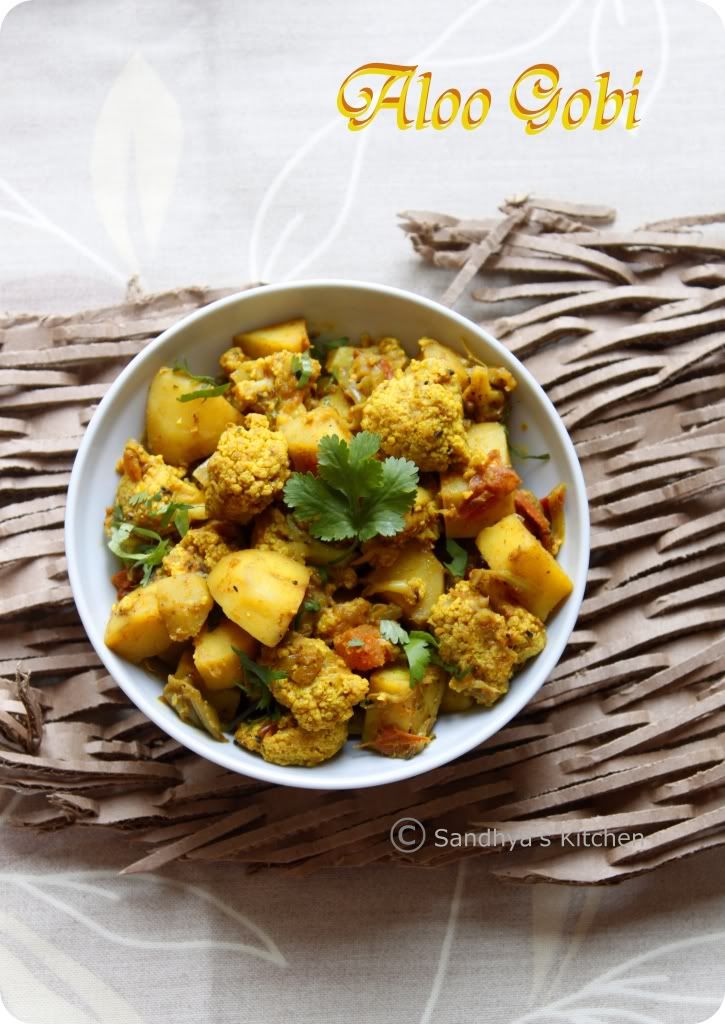 C lassic Aloo Gobi ( Potato - Cauliflower curry) is a dry curry with a mix of 2 bland versatile veggies , absolutely divine, blessing any dinning table at meal time. They pair very well with Phulka's / Nan or with Rice too..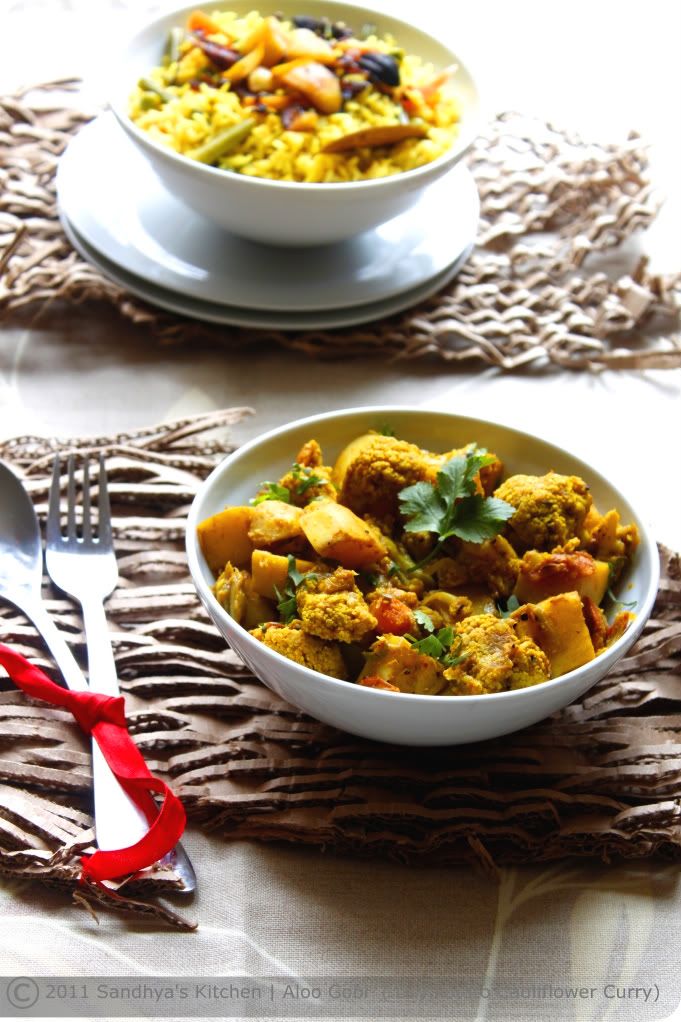 Serves - 8
INGREDIENTS :
Potato 1 kg
CauliflowerExtra Large - Roughly 1 Kg
Red Onions2 Nos - Large
Tomatoes2 Nos - Large
Freshly Grated Ginger2 Tsp
Panch Phoran 2.5 Tsp
Coriander Powder 1 Tsp
Green Chillies3 Nos
Turmeric Powder1 Tsp
SaltTo Taste
Oil4 Tblspn
Lemon JuiceA good squeeze
Coriander Leaves For Garnishing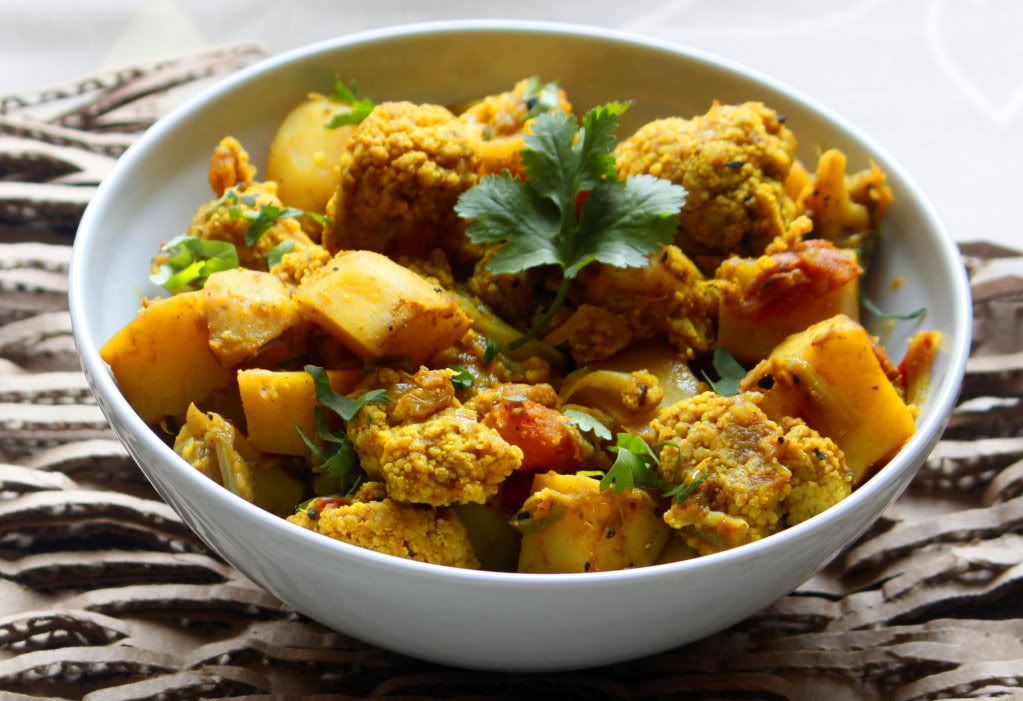 DIRECTIONS:
Peel the Potatoes and quarter them further into big chunks . Wash them and keep it aside...
Cut the cauliflower into large florets. Chop the onions into thin slices and tomatoes into big chunks.
Heat Oil in a non stick wok . Throw in Panch Phoran . Once they crackle and the aroma is just out , add in sliced onions . Fry them until they slightly turn brown . Pop in the freshly grated ginger , finely chopped green chilles , turmeric powder and 1/4 of the required salt . Fry them for 1 minute and pop in the washed potatoes. Gently stir and cover wok with a lid for 5 min.
Simultaneously pop the cauliflower in a large pot of water with a dash of milk. Let it bubble for 5 min and turn of the gas.. Drain the water and keep aside the nearly done shiny cauliflower heads.
Add in chunked tomatoes to the potatoes. Juice from the tomatoes will let the potato get some moisture.. If required just add in few tsp's of water. I havent added any water in the whole preparation. Very gently give it a good stir... We need to maintain the shaped potatoes .. and that is the real charm of this dry curry which my guests appreciated .
Using a fork , try giving a poke into a nearly cooked potato. If it goes in gradually , we are in just right time to add in the cooked cauliflowers florets. These florets are quite delicate .. They normally get very mushy . So give it good mix to the curry , the moment we add the florets. Sprinkle in the coriander powder , just 2 pinches of garam masala & remaining salt. A quick stir and cover for 2 min .. Get the serving dish ready , chopped coriander leaves and lemon out to do the icing .
Transfer this delicious Aloo Gobi curry to a Serving dish . Be really generous with your herbs .. I have added a handful of finely chopped coriander leaves and good squeeze of lemon juice.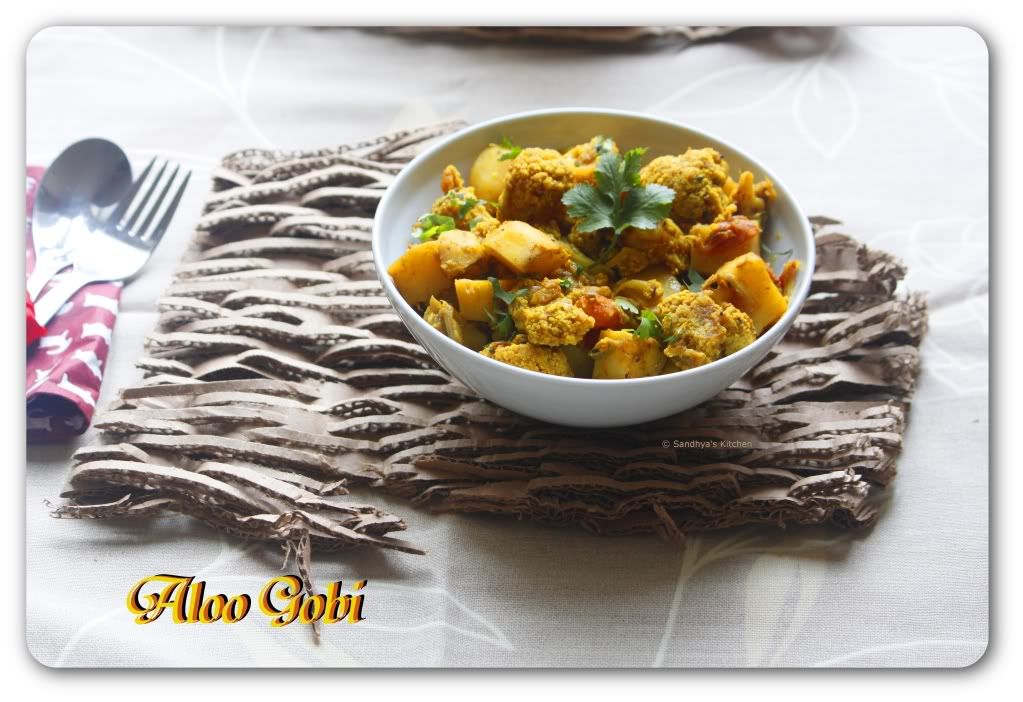 Serve them hot with phulka's and Enzoy your lazy Sunday with this delicious curry.