Panada - manadonese tuna stuffed bread/pastry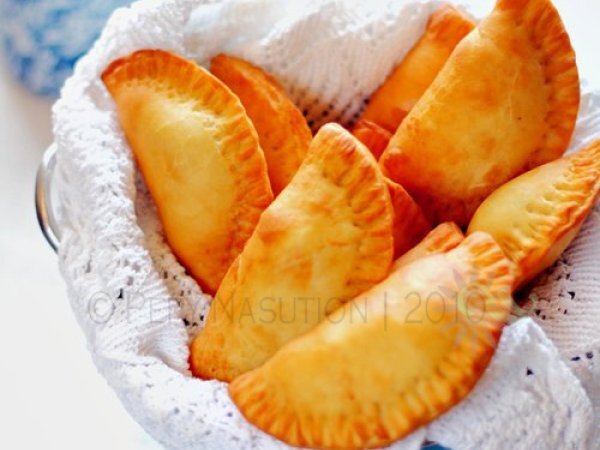 Preparation
Add sugar into 25 mL luke warm water and sprinkle the yeast over. Let stand for 5 minutes or until its foamy.
In a bowl mix flour and make hole in the centre. Add egg, butter and yeast mixture.
Knead while pouring in coconut milk a little at a time until the dough elastic and not sticking to the bowl and hand.
Shape batter into large balls and put into a bowl covered with a damp napkin or a piece of plastic.
Leave for 1-2 hours in a warm place until the dough rises.
Punch the dough and start to stir with hand again, divide by 10 - 15 and make balls. Let stand for 15 minutes.
Roll each piece 1/2 cm thick. Put over the pastry maker. Make sure that the pastry dough is slightly larger than the pastry maker.
Put a tablespoonful of filling on the center. Slowly fold the pastry maker and then press a bit firmly to seal the edges.
Open carefully halfway and take out your panada. Repeat until you finished all.
Let stand for 15 minutes and pinch the edge one more time with a fork, so the filling will not be popping out before deep fry.
Fry them. Do not use very hot oil but medium heat to deep fry so the skin still smooth without bubbles.
Questions:
You may like
Recipes