Pasteis de bacalhau - portuguese cod fish fritters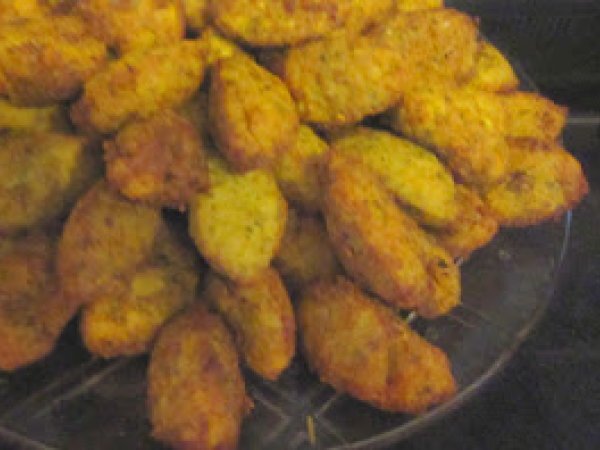 Preparation
One or two days prior to doing the fritters place cod fish in a bucket with half water half milk and let it stand in a cool place or fridge.
In a pot boil the cod fish for about 20 minutes, check if it needs salt.
Remove cod and add the clean and half cut potatoes in the same water until potatoes are nicely cooked.
Remove all skin and bones from cod fish and pass it through a food mill.
Place the cod in a large bowl.
Mash the potatoes also through the food mill.
Place the potatoes in same bowl as cod fish.
Add all remainder ingredients.

Form the little cakes by using two soup spoons .

In a freezer safe dish place all cod cakes without touching each other.
Place them in the freezer for about 2 hours, then remove and insert them in freezer safe containers or plastic bag.
When ready to serve, heat oil and fry the cod cakes (do not defrost them) until reaching golden color.
Can be served warm or cold.
Questions:
Related recipes
Recipes