Canelés of bordeaux - video recipe !
Canelés of bordeaux - video recipe !
Who never heard of Bordeaux, this french city known all around the worl for its wine ? Yet, there is another Bordeaux specialty that no one heard about, and that's wrong, the Canelés. Crunchy outside, and moist inside, you will love these tasty french treats !
Ingredients
---
1 cup flour
---
---
---
1 egg yolk
---
1 tbsp rum
---
---
Preparation
Step 1
In a bowl, mix together the eggs, yolk, sugar. Add flour and mix again.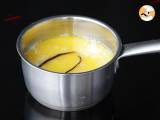 Step 2
Put the milk to boil, and add melted butter and slices vanilla pods. Let it boil, then take off the heat.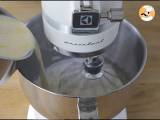 Step 3
Add this milk mix to the batter while stirring.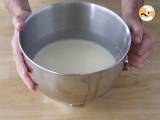 Step 4
Leave the batter to cold and settle at room temperature during 24 hours.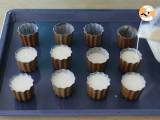 Step 5
Grease canelés molds. Leave to settle 10 minutes. Then, fill them up completely.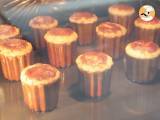 Step 6
Bake in 2 steps :
- 10 minutes at 450°F (230°C)
- 50 minutes at 360°F (180°C)
There you are ! Bon appétit !
---
---
Related recipes
Recipes
Related articles