Coconut and kaffir lime panna cotta w passion fruit pulp
Coconut and kaffir lime panna cotta w passion fruit pulp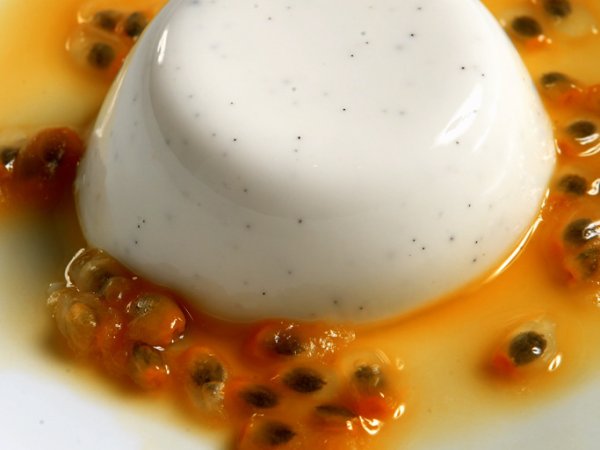 This is a very simple dessert but with some really nice tropical flavours. The coconut is quite rich so you want to serve it with something a little acidic like the passion fruit to balance the cream and the sweetness.
Preparation
For the panna cotta:

Bring all ingredients except the gelatine together to the scald in a pot and leave to infuse. Stir to dissolve sugar. Bloom the gelatine in a little cold water and then dissolve in the still hot mix. Pass. Cool down over a bowl of ice until starting to thicken, set in ramekins.
To serve:

Dip the ramekins in some hot water for a few seconds to just start to melt a little of the dessert enough to release. Turn out onto a cold plate. Serve with some of the freshly scooped passion fruit pulp.
Questions:
Related recipes
Recipes
Related articles