Hazelnut chocolate dome, as ferrero rochers
Hazelnut chocolate dome, as ferrero rochers
or
Do you like Ferrero Rochers ? Here is a dessert pretty close to the taste and texture of these delicious little chocolates!
Ingredients
---
1 tbsp sugar
---
---
1.5 oz lacy crepes
---
---
3 oz hazelnut praline
---
---
1 gelatin sheet
---
4 oz hazelnut praline
---
---
1 oz hazelnuts
---
3 oz milk chocolate
---
3 oz hazelnuts
Materials
Silicone domes molds
---
Chopper
---
Electric whisk
---
Cookie cutter
---
Pastry serynge
---
Cooking clothe
---
Brush
---
Preparation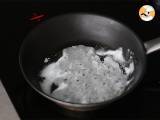 Step 1
Hazelnut praline :
Put the water and the sugar in a pan on medium heat. When the mix starts to form bubbles, add the hazelnuts.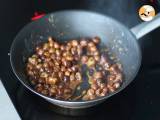 Step 2
Stir constantly, the sugar will caramelize and cover all the hazelnuts. Pour it all on a tray covered with parchment paper and leave to cool down.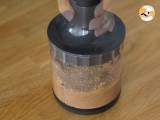 Step 3
Once cold, break the hazelnut into pieces and put them in a chopper. Chop until it forms a paste. Your hazelnut praline is ready!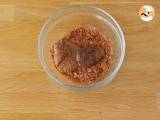 Step 4
Crunchy praline :
In a bowl, crush the lacy crepes, and add the melted chocolate and the hazelnut praline. Mix well.
Step 5
Immediatly form circles the size of the dome molds, using a cookie cutter. Make them on a silicone tray, or on parchment paper so it doesn't stick. Put them in the fridge until you use them.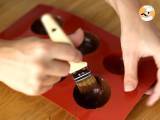 Step 6
Chocolate domes :
Melt the milk chocolat, and apply it in the domes using a brush. Put in the fridge for 15 minutes, and repeat to make a second layer of chocolate. Put in the fridge until you use them.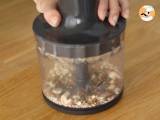 Step 7
Hazelnut core :
Crush the hazelnuts into big pieces, and mix them with the Nutella or any other chocolate spread. Set aside.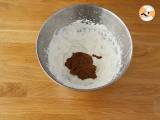 Step 8
Praline mousse :
Put the gelatin sheet to soak into cold water. Take 2 tablespoons of cream and heat it. Use the rest of the whipping cream to make a stiff whipped cream.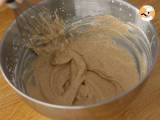 Step 9
Add the hazelnut praline, and gently stir using a whisk. Melt the soaked gelatin sheet in the hot cream, and add it to the mousse. Put this mousse into a piping bag.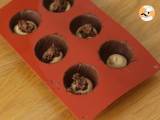 Step 10
Assembly :
Fill 1/3 of the domes with the praline mousse. Add a teaspoon of hazelnut core in each dome.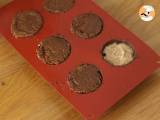 Step 11
Cover it all with the praline mousse, and place a circle of crunchy praliné to close each dome. Put in the fridge for at least 3 hours.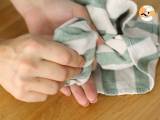 Step 12
Meanwhile, peel the hazelnuts to decorate. put them on a baking tray and bake 15 minutes at 350°F (180°C). Put them in a cloth and rub them until they are peeled.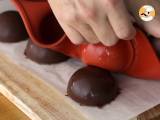 Step 13
Crush them using a knife or the chopper, keep 3 aside. Gently unmold your chocolate domes.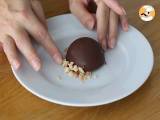 Step 14
Melt some chocolate,and use it to stick some hazelnuts all around the base of the domes. Then, stick half a hazelnut on the top.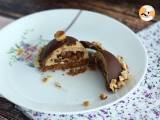 Step 15
There your are, your Hazelnut chocolate domes are ready!
---
---
Related recipes
Recipes