Jelly hearts cheesecake
Jelly hearts cheesecake
cream cheese, strawberries, lemon juice, sugar, butter, etc.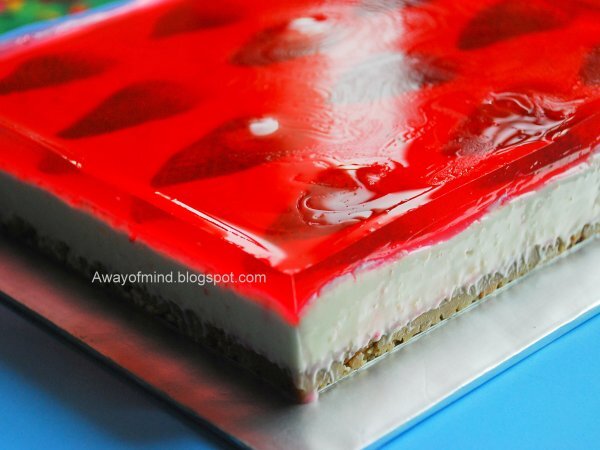 Preparation
1. Crush the biscuits and mix in the melted butter in a bowl.
2. Pour the biscuit mixture into a square baking tin. Compact the biscuit mixture.
3. Chill in the fridge for at least 1 hour.
4. Beat the cream cheese until smooth using a whisk. Add condensed milk and lemon juice. Continue to mix.
5. Dissolve the gelatin in the hot water. strain it if there are insoluble granules. Add to cream cheese mixture and mix well.
6. Pour cream cheese mixture into the tine and spread evenly.
7. Bisect the strawberries, then cut out the stalk.
8. Starting in the centre, place the heart shaped strawberries on top of the cream cheese mixture in a symmetrical fashion. Gently push them into the mixture, just deep enough to ensure that they will not slide.
9. Leave to set in the fridge overnight.
10. Follow the instructions on the jelly crystals box to make the jelly solution. Let it cool to room temperature.
11. Pour jelly solution over the cheesecake so that it covers the strawberries. Place the baking tin back to the fridge until the jelly set.
Questions:
You may like
Recipes