Orange and chocolate cupcakes
Orange and chocolate cupcakes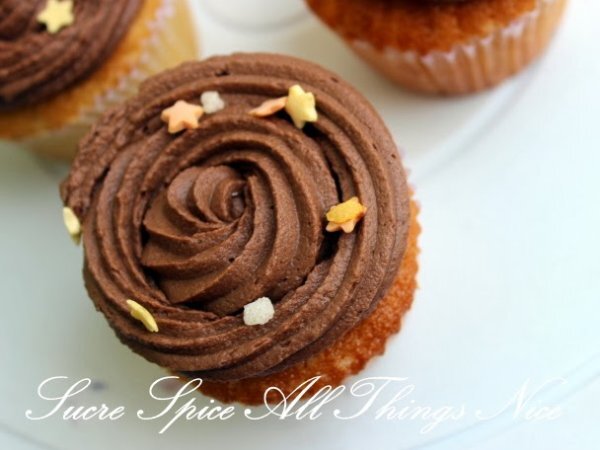 These easy and simple cupcakes have a divine combination of orange and chocolate with vanilla sponge as a base.The tangy filling is laced with orange liqueuer and frosted with chocolate butter cream.
Preparation
Preheat oven to 180 C degrees.
Line cupcake pans with paper liners; set aside.
In the bowl of an electric mixer fitted combine flours, sugar, baking powder, and salt; mix on low speed until combined.
Add butter, mixing until just coated with flour.
In a large glass measuring cup, whisk together eggs, milk, and vanilla
With mixer on medium speed, add wet ingredients in 3 parts, scraping down sides of bowl before each addition; beat until ingredients are incorporated but do not over beat.

Divide batter evenly among liners, filling about 2/3 full. Bake, until a cake tester inserted in the center comes out clean, 17 to 20 minutes.
Transfer to a wire rack to cool completely.
FiIlling: Loosen the marmalade with orange liqueur or warm water.
Using an electric mixer,combine cocoa,icing sugar and butter.Gradually add the milk on low speed. Once incorporated, increase the speed and beat till light and fluffy.
Once the cupcakes have cooled down, make a hollow in the center of the cupcakes with a sharp knife. Spoon the filling and replace the cut-out sponge and press down gently.
The frosting/icing can either be piped on the cupcakes or spoon a generous amount onto each cupcake and gently smooth over with the palette knife.
Questions:
You may like
Recipes
Related articles