Orange cake with chocolate ganache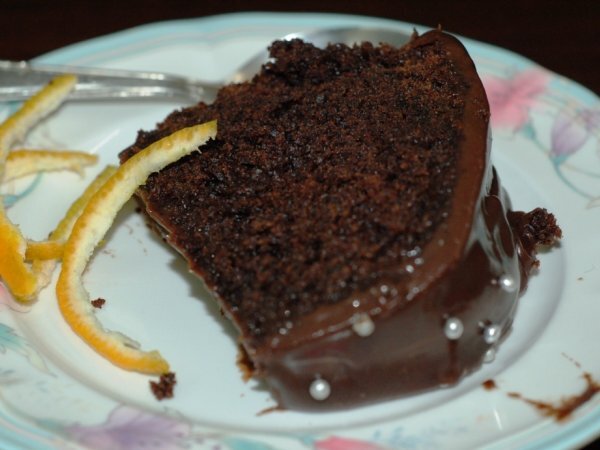 Preparation
Preheat oven to 180 C.
Generously grease and flour a Bundt pan and keep aside.
Beat together the oil and sugar in a large bowl with an electric mixer at high speed until fluffy, then add eggs 1 at a time, beating well after each addition.
Sieve together the flour, baking powder, baking soda, salt, cocoa, and cinnamon in a large mixing bowl.
Add the yogurt, vanilla essence,and orange juice.
Beat by hand or with a mixer on low speed just until well-combined, about 1-2 minutes.
Stir in the orange powder and the grated orange peel.
Pour the cake batter into the prepared Bundt pan, spreading so that it is evenly distributed.
Bake in a preheated oven for about 50 minutes or until a tester inserted in the cake comes out clean.
Let the cake cool completely in the pan for about an hour before inverting onto a serving plate.
Pour on the chocolate ganache glaze and let it set for at least 1 hour before serving.
Making the Ganache -
In a small saucepan bring cream just to a boil.
Remove pan from heat and add chocolate and the softened butter. Let ganache stand for 3 minutes and whisk until chocolate is melted and well combined. Let it cool for 10 minutes before glazing the cake.It can also be prepared in advance and then gently reheated in the microwave.
Questions:
You may like
Recipes
Related articles