Valentine peanut butter cookies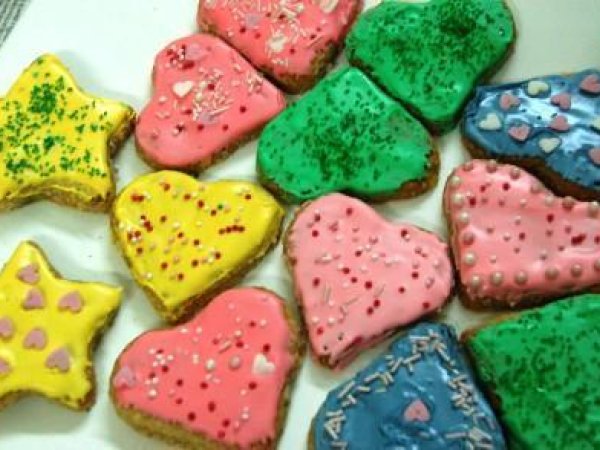 Preparation
In a bowl, whisk together flour, baking powder, butter and sugar till the mixture resembles that of fresh breadcrumbs.
Add in the 2 eggs,salt and vanilla essence. Beat again 2 -3 minutes.
Next add the peanut butter and knead the dough well with your hands till the dough comes together and is soft.
Press the dough into a rough rectangle, wrap tightly in plastic wrap, and refrigerate for 10 - 12 minutes until firm.
Preheat the oven to 180C.
Roll out the dough until 1/4 inch thick.
Using cookie cutters, cut the cookies into the desired shapes.
Use a metal spatula to transfer the cookies to the prepared sheets, spacing them 1 inch thick. Press the dough scraps together, roll out, and cut out additional shapes.
Bake the cookies until they are lightly golden around the edges but the tops are barely colored, 14 -16 minutes.
Let cool on the sheets for 5 minutes. Using the metal spatula, transfer to wire racks and let cool completely, about 30 minutes.
Decorate the cookies as desired.
For Royal Icing : In a bowl, beat the egg white with the lemon juice with an electric mixer until combined. Add the sifted powdered sugar and beat on low speed until combined and smooth. Using a small knife, push the icing to the edge of the cookie. If the icing runs off the edge, thicken the icing by adding a little more confectioners sugar. Conversely, if the icing is too thick, add a little water.The icing needs to be used immediately or transferred to an airtight container as royal icing hardens when exposed to air. Cover with plastic wrap when not in use.
Questions:
Related recipes
Recipes