Wafer cookie filled with almonds and figs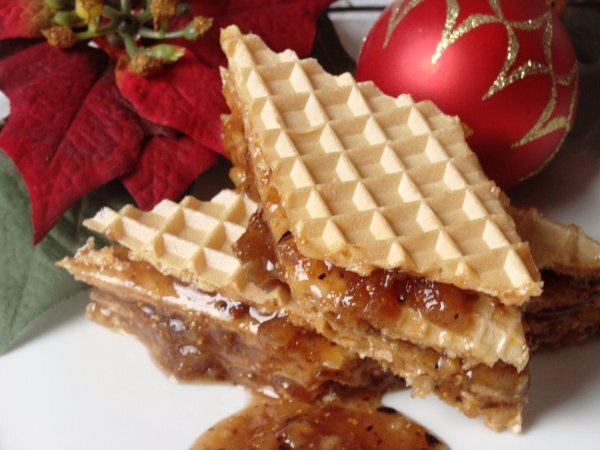 Preparation
Pour 3 cups of water in a large saucepan and warm it up over medium heat.
Add in granulated sugar, followed by the vanilla sugar and grits. Dissolve.
Stir in the chopped figs and the orange zest.
Cook for 5 minutes, stirring occasionally.
Mix in the toasted and ground almonds, and let the mixture simmer for another 5 minutes, stirring occasionally.
Stir in the cocoa powder and combine.
Take the saucepan away from the heat and let it cool – the mixture will thicken as it cools.
Set one wafer on a cookie sheet (this is to eliminate the mess on your countertop from the drips of the sauce).
When the fig mixture has completely cooled (about an hour), spread it over the entire wafer.
Cover that with a wafer sheet.
Repeat this two more times; cover with the last wafer.
Place a cutting board on top so to keep the last wafer from folding up on the sides.
Allow the dessert to set for about an hour before cutting it.
You can cut it into the shape of squares or the shape of diamonds.
Questions:
Related recipes
Recipes