Aloo mutter (potatoes with green peas)
Aloo mutter (potatoes with green peas)
Aloo mutter is very common curry which every house hold makes it. This is a life saver recipe when you are in rush but you want your family to eat tasty and wholesome meal. Many recipes say to use boiled potatoes in onion-tomato gravy. But I personally don't like that taste because by making that way you never get potatoes with that much absorbed flavors. When you cook everything in pressure cooker then potatoes and peas has time to absorb every masala in them and make it more flavorful. I added store bou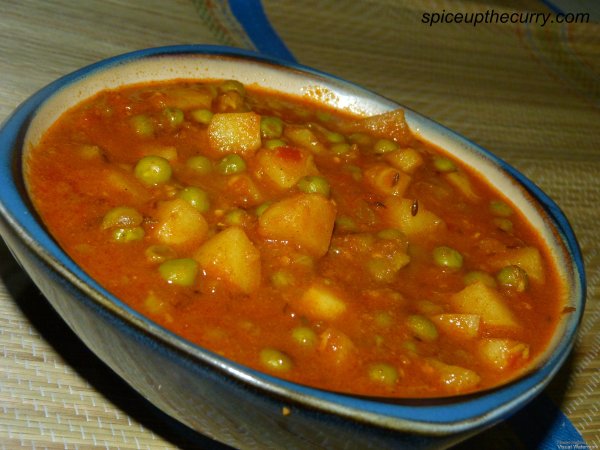 Recipe type:

Main Dish

Number of serving:

4 servings

Preparation:

10 min

Cook time:

20 min

Ready in:

30 min

Difficulty:

Very Easy
Ingredients
Potatoes
– 1 1/2 cups or 2 medium, peeled and chopped in 1/2 inch cubes
Green
peas
– 1 cup (I used frozen)
Oil – 2 tablespoons
Cumin
seeds – 1 teaspoon
Onion
– 1/2 cup or 1 small, finely chopped
Ginger
paste – 1 teaspoon
Garlic paste – 1 1/2 teaspoons
Green chilies – 2, chopped finely
Tomatoes – 1/2 cup, chopped finely
Tomato puree – 1/4 cup (I used store bought)
Turmeric powder – 1/2 teaspoon
Coriander powder – 1 1/2 teaspoons
Red chili powder – 1 1/2 teaspoons
Garam masala – 1 teaspoon
Salt – to taste
Water – 3/4 cups
Preparation
Step 1
Heat the oil in pressure cooker on medium heat.
Once hot add cumin seeds. Let them sizzle. Then add onions, ginger paste, garlic paste and green chilies.
Step 2
Mix well and cook them for 2 minutes. Add tomatoes and tomato puree. Mix well.
Step 3
Add red chili powder, coriander powder, garam masala and salt. Mix well and cook it for 2 minutes.
Step 4
Add potatoes and green peas. Add water and mix well.
Step 5
Cover the pressure cooker, put the weight on. Cook on high heat for 2 whistle and then on low-medium heat for 1 whistle. Let the pressure go down by itself and open the cover. Serve hot.
Step 6
Serve with
Roti or paratha or naan
Sliced onions with few lemon drops
Buttermilk on side
Or with rice
Questions:
---
---
Related video
Related recipes
Recipes
Related articles
Impress your friends with these St Patrick's day recipes!