Bihun sup utara/bihun sup kedah (northern malaysia rice noodle soup tika's touch)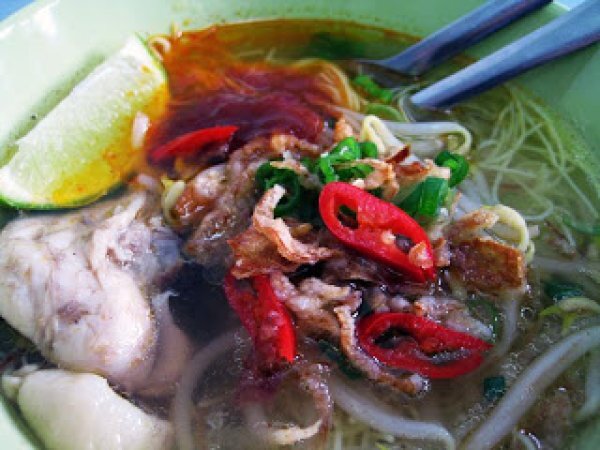 Recipe type:

Main Dish

Number of serving:

2 servings

Preparation:

10 min

Cook time:

20 min

Ready in:

30 min

Difficulty:

Very Easy
Ingredients
- Bihun/Rice Noodle
- 1/2 tablespoon
Turmeric
Powder
- 1 Sup Bunjut Adabi
- 1
clove
of Garlic (sliced)
- 1-2
Onion
(sliced)
- 1/2 tablespoon Ground Black Pepper
- Some
chicken
(Cut into small pieces)
- Water
-
Sugar
and Salt to taste
- 6-7 Dried Chilies
- 1 Big Onion
- 2-3 clove of Garlic
- 1 tablespoon Tamarind Paste (use the juice only)
- Sugar and Salt to taste
- Cooking OilBean Sproud (Boiled)
- 1 Red Chili (sliced)
- Spring Onion (sliced)
- Lime
- RadishFried Shallot
Preparation
Step 1
For the rice noodle:
Boil rice noodle together with Turmeric powder. Once the noodle get tender, remove from the water. Fot the soup.
Step 2
Boil water together with Sup Bunjut Adabi, Garlic, Onion, Ground Black Pepper and chicken. Add up sugar and salt to taste.
Step 3
For the chili paste:
Blend dried chilies, onion, garlic, tamarind paste, sugar and salt all together. Put some oil in a pan until it's hot.
Step 4
Add in all the grinded ingredients and cooked well.
Step 5
Before eating the rice noodle with the soup, you may add some bean sproud, red chillies. chili paste, spring onion, lime, radish and fried shallot.
Related recipes
Questions:
---
---
Related video
Recipes