Chicken alexis
Chicken alexis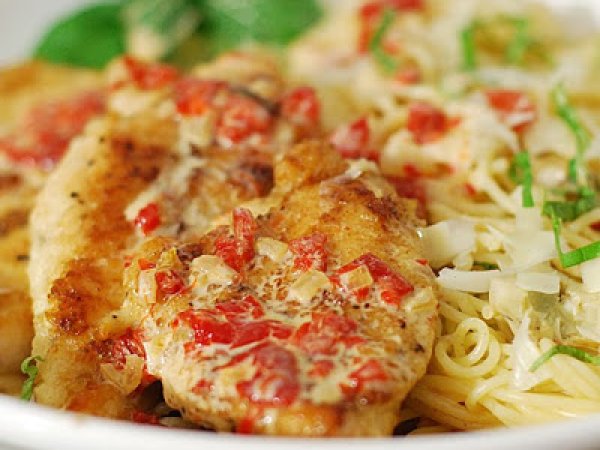 Preparation
Season your chicken with salt and garlic pepper. Then place in a gallon zip top bag one at a time and pound to about 1/4" thickness. Dredge in flour and set aside.
Once the pan is hot, add 1/4 cup olive oil and wait for about 20-30 seconds for the oil to heat up. Add the chicken in small batches. Cook for 3-4 minutes until golden brown.
Flip and cook another 3-4 minutes until the other side is golden brown. Remove to a warming drawer or 200f oven.
Reserve 1 tbsp of oil and add the shallots to the pan. Stir for about 1 minute and then add the roasted red pepper. Continue stirring until the shallots are softened.
Deglaze the pan with sherry, stirring briskly with a wooden spoon to get all of the goodies scraped off of the pan. Continue cooking until the liquid is almost evaporated.
Reduce heat and slowly add cream while continuing to stir. Add in broth. Bring to a simmer, slightly reduce heat and stir occasionally until the volume is reduced by half. Squeeze in the juice of 1/2 lemon. Taste and season with salt and pepper as needed.
Serve the sauce ladled over the chicken and a bed of pasta.
Questions:
You may like
Recipes