Chicken and ladyfinger biryani (chicken aur bhindi ki biryani)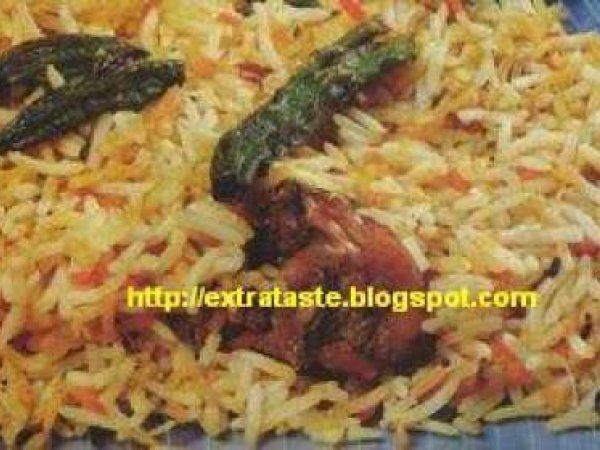 Preparation
1. Mix chicken pieces together with salt, garam masala, (ginger + Garlic) paste, dahi. Marinate this for 1 ½ hour.
2. Add fried onions and keep aside.
3. Wash and dry the bhindis (ladyfingers). Remove both ends of each bhindi and make a slit in the center.
4. Heat some oil in a kadai (oak). And fry together the jeera powder, salt and bhindis until golden brown in colour. Unload and keep aside.
5. Soak the basmati rice in water for 15 minutes. Cook the rice in salted water till only half tender. Drain water and keep aside.
6. Assemble the Biryani: Take a big size, thick bottomed pan with lid. The pan should be big enough to fit the rice and the meat and should have enough space for the rice to swell. Place the marinated chicken at the bottom of the pan with all the marinate. Spread half of the half-cooked rice over this chicken. Place the fried bhindi (ladyfinger) over the rice and cover with the remaining rice. Make insertions in the rice layers and pour the saffron solution, lemon juice so that these reach the bottom layer. Cover with lid and seal the rim with something (like flour/atta/maida dough) in order to prevent the steam from escaping. Now place the pan over low heat and cook for 40 - 45 minutes until the rice is tender but not over-cooked.

Serve the Biryani piping hot.
Questions:
You may like
Recipes
Related articles