Chicken curry
Chicken curry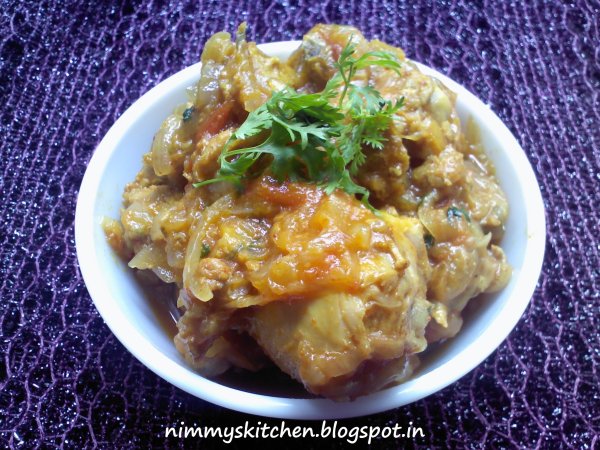 Simple and healthy chicken curry.
Ingredients
Chicken
(cut into medium pieces) - 1 kg
---
Onion
(sliced) - 3 medium
---
Tomato
(cut into small pieces) - 3 medium
---
Red
chilli powder
- 3 tbsp (increase or decrease the quantity according to your taste)
---
Coriander powder - 4 tbsp
---
Turmeric powder - 1 tbsp
---
---
Garam masala powder - 1 tsp
---
Ginger garlic paste - 2 tbsp
---
Salt to taste
---
Oil (preferably coconut oil) - 4 to 5 tbsp
Preparation
Clean and wash the chicken pieces. Place it in a deep bowl. In a small non stick pan, dry roast (without putting oil) red chilli powder, coriander powder, turmeric powder and garam masala powder. It will take less than 1 minute. Take it off from heat.
Put this mixture along with salt into the chicken pieces. Mix well. Let it marinate for some time.
In the mean time, heat oil in a big kadai or pressure cooker. Put the sliced onion and saute it till golden brown colour.
Add ginger garlic paste and again saute it. Now add the tomatoes and mix well. Let it cook for some time.
When the tomatoes are fully cooked, add the marinated chicken pieces. Mix well. Adjust the salt if needed at this stage. (Usually, i dont add water as the chicken leaves out little water from it while cooking. If you want more gravy for the dish, add water and adjust the gravy while cooking.)
If you are preparing in a pressure cooker, close the lid and after 1 whistle, remove from heat.
If you are preparing in a kadai, close with a lid and mix the curry in between.
When the chicken pieces are cooked throughly, add coriander leaves and remove from heat.
Serve it hot with rice or roti.
Questions:
Related recipes
Recipes