Corn-crusted fish tacos with jalapeno-lime sauce and spicy black
By
sommerjoy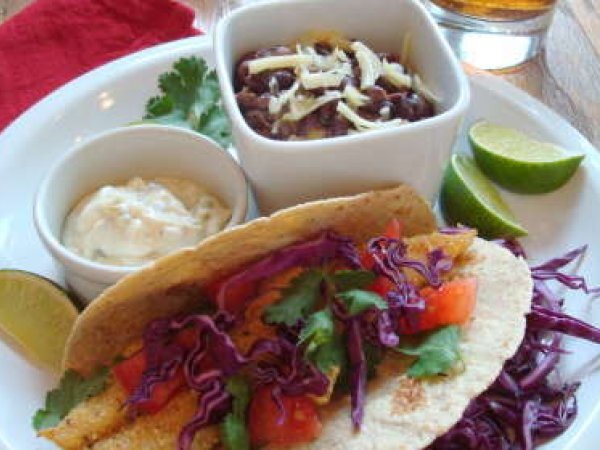 Recipe type:

Main Dish

Number of serving:

4 servings

Preparation:

20 min

Cook time:

10 min

Ready in:

30 min

Difficulty:

Easy
Ingredients
1 ½ lbs. tilapia (catfish and swai work too)
½ cup cornmeal
4-5 Tb.
olive oil
8-16 tortillas (white corn tortillas are traditional)
1 ½ cup shredded
red cabbage
2 large
tomatoes
, chopped
¾ cup chopped
cilantro
2
limes
cut into wedges
Bottled hot sauce
2 cans black beans, drained
½ cup chopped green onions
½ tsp. cumin
Pinch of cayenne pepper
Monterey Jack cheese, shredded
2/3 cup light mayo
1-2 Tb. lime juice
1 chopped jalapeño (pickled if sensitive to heat)
Preparation
Mix the mayo, lime juice and chopped jalapeno in a small bowl. Salt and pepper to taste, then put in the fridge. I use a pickled jalapeno when I'm serving this to children because it provides great flavor, but isn't as hot as a fresh jalapeno.

Chop all veggies and set aside. Add 1 Tb. of oil to a small pan over medium-high heat. Add the green onions and allow them to sauté for 1-2 minutes. Pour both cans of drained beans into the pan. Bring to a simmer and add the cumin, cayenne and ½ tsp. of salt. Squeeze a couple of lime wedges into the beans. Cook for 5 minutes longer. Cover and set aside. Top the beans with cheese when you are ready to serve them.

Heat a large skillet to high heat. Cut the fish into 1 X 3 inch strips. Drizzle oil on the fish, then salt and pepper both sides.

Pour the cornmeal into a pie pan. Roll the fish strips in cornmeal, shaking off the excess.

Add 2 Tb. of oil to pan. When it's hot, cook half the fish strips 1-2 minutes per side, until opaque and flaky. The cooking time will depend on the thickness of the fish. Remove the fish from the pan and place on a paper towel-lined plate. Repeat.

Warm the tortillas in the microwave. Divide the fish between 8 tortillas. (You can double up the tortillas so they won't break!) Then top each with cabbage, tomatoes, cilantro and jalapeno-lime sauce. Serve with lime wedges and hot sauce—black beans on the side.
Related recipes
Questions:
By
sommerjoy

---
---
Related video
Recipes
Related articles