Crab Stuffing for Shrimp, Flounder...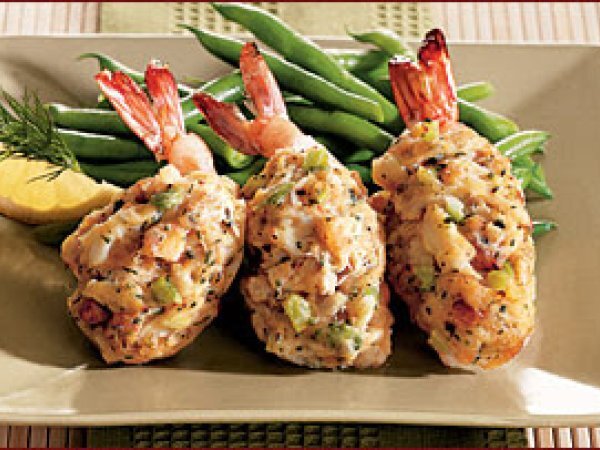 Preparation
Wash the shrimp under running water and remove shell leaving the tail on. Butterfly each shrimp by running a sharp knife down the backside to the tail.
Add the stale bread to the eggs and let soak. Heat the butter in a large saucepan; add the onions, bell pepper and 3/4 cup of celery and sauté on low until soft. Stir in the crabmeat and cook for 10 minutes.
Remove bread from the eggs and quickly mash into the sautéed vegetables. Stir in the green onions and the next 6 ingredients mixing well. Cook a couple more minutes. Remove from heat until cool enough to handle.
Place 1 to 1 1/2 tablespoons of stuffing onto each shrimp. Preheat oven to 350 degrees F. Place shrimp on a baking sheet in a single layer about half-inch apart.
In a small bowl, combine the mustard with the melted butter and mix in the season-all, crumbs and cornmeal. Sprinkle the tops of each shrimp with this mixture.
Bake in the oven for 20 to 22 minutes or until the tails curl up and shrimp meat is bright white.
Watch closely towards the end of cooking as you don't want to mess up this kind of shrimp. Place under a broiler a couple of minutes to brown the top if desired after about 18 or 20 minutes. Again, don't overcook these please.
Serve with drawn butter and lemon wedges or over a rice dish of choice with a vegetable if desired.
Questions:
You may like
Recipes