Drumstick dal
Drumstick dal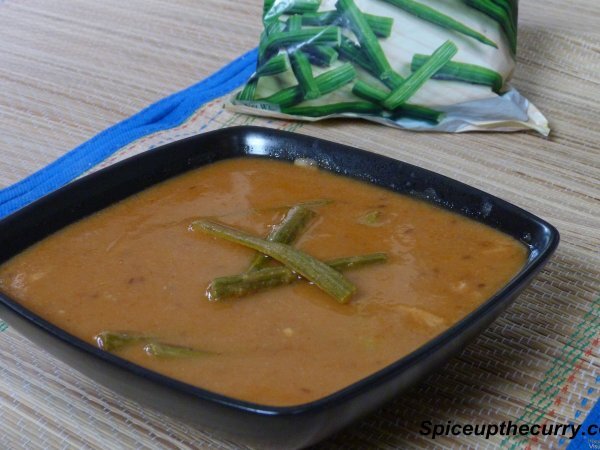 Drumsticks are long, thin, green pods. You can make curry, dal or kadhi from it. They are most commonly used in sambar recipes. I am going to share drumstick dal today. It is made from Toovar dal and other spices, besan is added for thickness. So let's see how to make it.
Ingredients
Toovar Dal (Pigeon Peas) – 1/4 cup
---
Ghee (Clarified butter) – 2 tablespoons
---
---
Fenugreek seeds (Methi seeds) – 1/4 teaspoon
---
---
Besan (chickpea flour) – 1 tablespoon
---
Coriander powder – 1 1/2 teaspoons
---
Cumin powder – 1/2 teaspoon
---
Red chili powder – 2 teaspoons
---
Drumsticks – 14 pieces, 3-4 inches long (I used frozen)
---
Lemon
juice – 2 teaspoons
---
---
Water – 3/4 cup + 2 1/2 cups
Preparation
Wash Toovar dal under running cold water till water runs clear. Add dal in pressure cooker with salt and 3/4 cups of water and close the lead, put the weight on. Turn on the heat on medium heat.
And let it whistle for 7 times. Let the pressure go down by itself. Open the lid and puree it with hand blender. Keep it aside until needed.
Heat the ghee in a pan on medium heat. Once hot add cumin seeds and methi seeds. let them sizzle.
Then add garlic cloves and sauté for a minute or till garlic becomes light brown. Do not burn the garlic otherwise it will give you bitter taste.
Then add besan and mix it immediately and let it cook for 2 minutes while stirring continuously. You will get nice fragrance from chickpea flour.
Then add dal and 2 1/2 cups of water. Mix it well.
Add coriander powder, cumin powder, red chili powder and remaining salt. Mix well.
Then add drumsticks and let it come to a boil.
Simmer dal for about 25 minutes. Drumstick will open up little bit and becomes fork tender.
Add lemon juice and serve hot.
Notes –
Do not burn the garlic otherwise it will give bitter flavor.
I used frozen drumsticks. But you can use fresh and adjust the cooking time and water quantity accordingly.
Serve with plain rice or Jeera rice.
Related recipes
Recipes