El jibarito (plantain and steak sandwich)
El jibarito (plantain and steak sandwich)
If you know the taste of this delicious dishes Try it.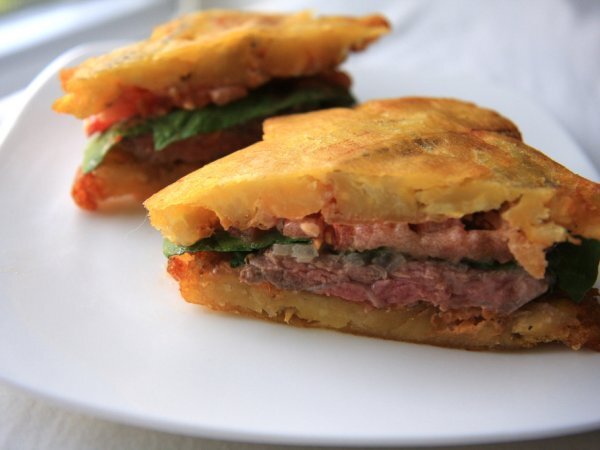 Preparation
Get yourself some yummy skirt steak. Stab it savagely a few times with a fork to tenderize it. Put it into a Ziploc bag with 1 cup of Mojo and let it marinade, set aside. You can find pre-made mojo marinade at you local Latin grocery.

Get yourself an onion and 3 cloves of garlic. Slice 1/2 an onion. Crush 3 cloves of garlic. Crush them with the skins on, they come right off after they are crushed. Get 3/4 cup of water, 1/4 cup of olive oil and 1 Tbs of vinegar. Pour into a hot pan.

Now add garlic, onions, 1 bay leaf and 12 pepper corns a pinch of salt. Let it come to a boil, turn down the heat and simmer for 10 minutes. Remove from heat, set aside.

Fill a large deep skillet with vegetable oil. Fill it enough to were your plantains will be almost submerged. Peel your plantains and cut them in half at and angle. If you want a thinner crispier plantain, you can cut it long ways. You will just have a narrower sandwich.

Drop them into the oil and let them fry until golden. Remove the plantain from the oil. Take a heavy pan and mash the plantain. Return the plantains to the oil. Fry until golden brown and crispy on the edges. Be careful not to burn.

When done transfer to a plate lined with paper towel to drain, sprinkle with salt. Donot forget the salt. In a small bowl or cup, combine 1 tablespoon of mayonnaise and 1 tablespoon of ketchup.

Make your sandwich. Spread the mayo-ketchup spread on the plantains, layer steak, onion mixture, lettuce and tomatoes. Top your sandwich with the other plantain, slice in half and enjoy.
Questions:
You may like
Recipes
Related articles