Garlic chicken (chicken with 20 cloves of garlic)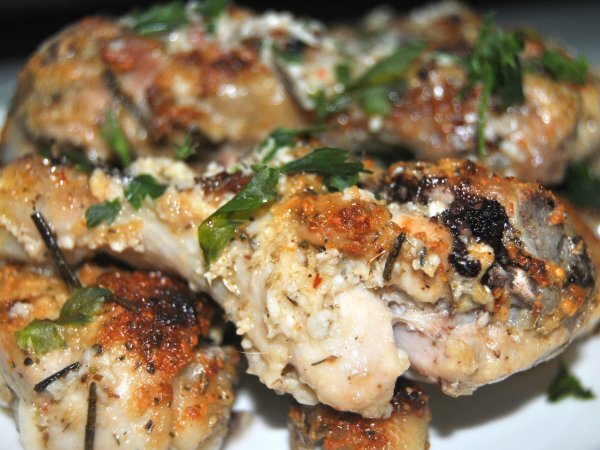 Preparation
1. First up, you have to make a couple of deep slashes all the way to the bone in 2 sides of your chicken legs.

2. Then you have to puree your 20 cloves of garlic with a blender or food processor together with your olive oil, red wine vinegar, and dried herbs; blend it to make a smoothie puree.

3. Pour the marinade into your chicken legs in a large bowl and soak well. Make sure the puree will get into the slashes; Cover it will plastic wrap and refrigerate it overnight. Well i think 5-6 hours will be enough. Or you can prepare this in the morning and it will be good for dinner.

4. Preheat your oven to 425F. Spread out your chicken in your baking pan which is covered with foil and smeared with a little olive oil. Generously salt and pepper your chicken and bake it for about 40-45 minutes.
When it's done, transfer it into a large serving plate and top it with Italian Parsley.
Questions:
Related recipes
Recipes