Roasted garlic breast of chicken
Roasted garlic breast of chicken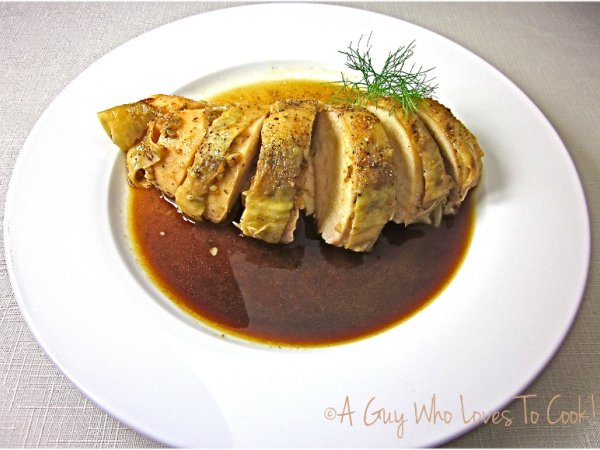 This flavorful, moist chicken recipe is ramped-up with roasted garlic.
Preparation
Put the Rosemary in a small sauce pan, cover with 1 cup of the Dry White Wine and set over low heat until the wine begins to simmer gently.

Simmer for 1 minute then cover and remove from heat and set aside until cooled.
Squeeze all of the Roasted Garlic into a small bowl along with the 4 tablespoons of softened Unsalted Butter, Herbes de Provence, Paprika and 1 teaspoon Kosher Salt then mash to form a paste.

Preheat oven to 425ºF. Arrange the leeks, cut sides down, in a roasting pan or Dutch oven to form "racks" on which to place the Chicken Breasts.
Rinse the Chicken Breasts and pat dry.

Loosen skin and spread the garlic paste between skin and meat, using your fingers only and then rub the skin with your fingers to spread the garlic paste evenly under the skin and to apply a light coat of the buttery garlic mix on the surface.

Sprinkle the skin with the remaining 1 teaspoon of the Kosher Salt and the Freshly Ground Black Pepper.
Place the Chicken Breasts, skin side up, on top of the Leeks and lay a sprig of Rosemary on top of each breast.

Pour the Wine into the bottom of the roasting pan – not over the Chicken. Put the Chicken in the oven for 15 minutes at 425ºF and then reduce heat to 350ºF and roast for another 45 minutes.

Remove Chicken to a platter and loosely cover with foil for 10 minutes.
Set the roasting pan over medium heat and add the chicken stock, the remaining 1/2 cup of Wine and any juices from the resting Chicken, scraping to deglaze the bottom of the pan.

Cook until the liquid in the pan reduces by half and remove from heat and stir in the 2 tablespoons of chilled butter. Pour sauce though a wire mesh strainer to remove all of the solids.
While the sauce is reducing, separate the bones from the Chicken Breasts while leaving the crispy skin intact.

Spoon the strained sauce over the Chicken Breasts and serve with Buttered Orzo and Sautéed Spinach.
Questions:
Related recipes
Recipes