Greek mousakas and useful tips
Greek mousakas and useful tips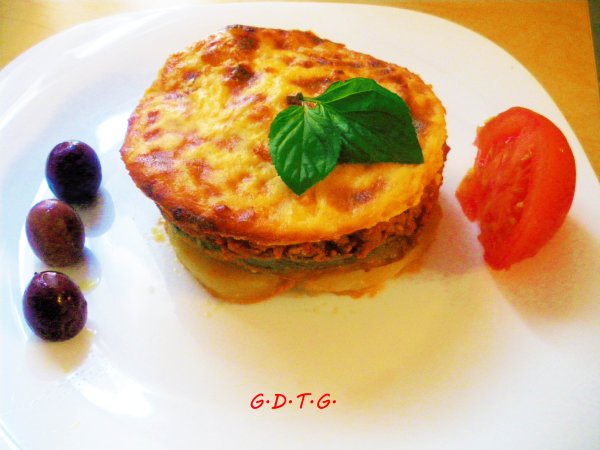 There are no words to describe the taste of mousaka! Most Greek families cook moussaka at least once a year. There are hundreds of mousaka recipes on the Internet, that's why I will tell you not only the traditional recipe but 1 will give you also some useful tips!
Preparation
Let's prepare the ingredients.
Chop the onion finely.

Peel the aubergines and the potatoes. Slice the aubrgines and the potatoes in 0.5 cm slices.
Put the sliced aubergines in a bowl with slightly salted water.The salt will remove some of the bitterness of the aubergines.

Put the tomatoes in boiling water for 1-2 minutes. Then rince them under running tap water. The temperature change will make them peel easily. Peel the tomatoes and cut them into small pieces.

Okay, time for cooking!
Heat a large skillet over medium-low temperature and add the minced beef (optionally you can add 2-3 tablespoons olive oil).

When the minced beef gets brown add a clove of garlic, the cinammon stick and the onion. After 5 minutes add the wine. After alcohol has evaporated, add the tomatoes, a pinch of sugar, a pinch of nutmeg powder and season with salt and pepper.

Let the mixture to be cooked till all the liquids are absorbed. When it is readt remove the cinnamon stick and clove.
You can cook the potatoes and the aubergines with two ways.

More specific you can either bake them in a greased oven dish (after being sprinkled with some olive oil) over medium heat for a quarter or you can fry them with vegetable oil.
A tip to avoid augerbined of absorbing too much olive oil when you fry them is to beat 2 egg whites and dip the aubergine slices into the egg whites before you fry them.

After removing them from the pan place them on a plate that it is covered with paper towels. Don't forget to salt the potatoes and the aubergines.
For the Béchamel Sauce follow the instructions of the traditional recipe.

Melt butter in a saucepan over low heat. Add flour to melted butter whisking continuously to make a smooth mixture. Allow the flour to cook for 2 minute. In meantime continue whisking.

In a second saucepan warm the milk. Combine the first mixture to the milk and let it thickens. Stir in beaten egg yolks. Add a pinch of nutmeg. Salt and pepper.

Stir until sauce thickens. Remove from heet and add the parmesan cheese.
Now it's time to assemble the mousaka. Grease a deep baking pan and sprinkle the breadcrumbs at all thw surface of the pan. First place a layer of potatoes on the bottom.

Add a layer of aubergine slices. Put meat filling on top of the aubergine layer. Pour the béchamel sauce over the top layer. Bake in a 180-degree Celsius oven for 45-50 minutes.
Questions:
You may like
Recipes
Related articles