Green peas pulao (mutter pulao)
Green peas pulao (mutter pulao)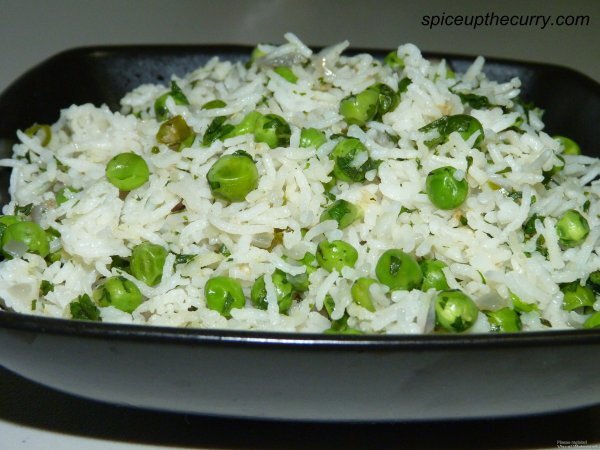 This is the simplest pulao that I have ever made. Green peas, garlic, mint, coriander all these ingredients will give nice flavors and awesome taste. These pulao has not added any spices but other all ingredients give it amazing aroma and flavor to the dish.
Preparation
Wash basmati rice in running cold water until water runs clear.
Soak rice in enough water for 30 minutes.
While rice is soaking, do all the chopping work. And prepare green peas.
Take green peas in microwave safe bowl. Add a tablespoon of water, pinch of salt. Cook them in microwave for 2 minutes (depends on your microwave) if using frozen green peas. Cook them in microwave for 5 minutes (depends on your microwave) if using fresh green peas.
Drain the rice and keep aside.
Heat the oil in a pan on medium heat.
Once hot add onions, garlic paste and green chilies. Sauté them for 2 minutes.
Then add drained rice and mix well. Sauté those for 1 minute stirring continuously. Then add water.
Cover and lower the heat to lowest and cook them for exactly 15 minutes.
After 15 minutes add boiled green peas, chopped mint and chopped cilantro.
Mix gently so rice grains do not break. Cover it and cook it for 2 minutes.
Turn off the stove and keep covered for 10 minutes.
Open the lid and serve hot with dal.
Questions:
You may like
Recipes