Green peas and corn with cauliflower 'rice'
Green Peas and Corn With Cauliflower 'Rice'
Steamed peas and spinach added to cauliflower 'rice' and corn, with a hint of basil.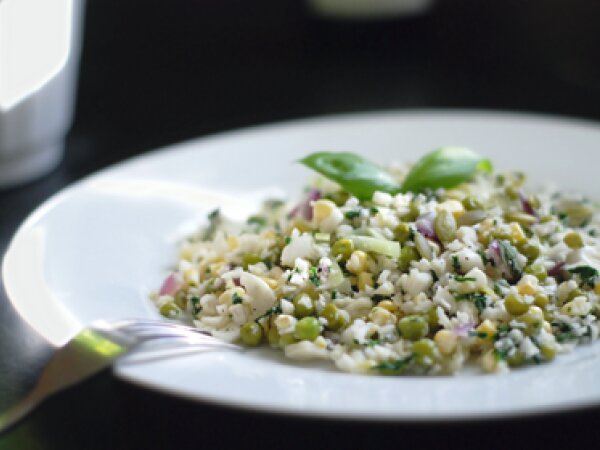 Preparation
Steam green peas and spinach for 3-5 minutes. Set aside. (let cool)
Chop onions, leeks and garlic. Set aside for 5 minutes.
Using a food processor, finely chop the cauliflower (you need to produce 2 cups of 'rice').
Transport cauliflower rice to a large mixing bowl and add pumpkin seeds and chopped herbs (basil and sage). Mix well.
Remove corn kernels from cobs, using a knife, and then add to large mixing bowl.
Add salt, peppercorn and cumin to large mixing bowl. Mix well. Taste and make adjustments to seasoning (should be lightly seasoned and not over powered by the cumin powder). Set aside.
In a small frying pan, at medium-low heat, lightly fry onions, leeks and garlic for about 3-5 minutes. (If you can tolerate the strength of raw onion and garlic, you can skip this step and add them to the mixing bowl.)
Once onions are softened, remove from heat. Set aside.
Add spinach and green peas (should be cooled) to the large mixing bowl and mix well.
Then add onions and garlic once cooled. Mix well.
Check for flavor and make necessary adjustments. Serve and enjoy!
Questions:
You may like
Recipes