Grilled chicken leg quarters with asparagus
Grilled chicken leg quarters with asparagus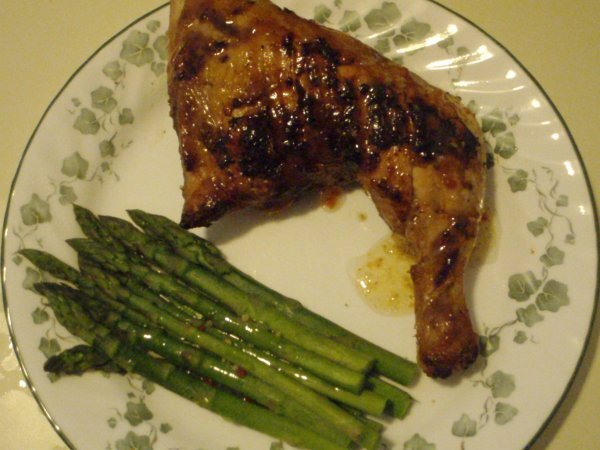 Grilled chicken leg quarters served with asparagus with Italian dressing.
Ingredients
---
---
Italian Salad Dressing (You can also use the store bought dressing)
---
1/2 Cup Barbeque Sauce
---
---
---
---
1/2 Tsp dried basil
---
1 Tsp sugar
---
1/4 cup olive oil
---
1/4 cup cider vinegar
---
2 tablespoons water
---
1 teaspoon minced garlic
---
2 teaspoons sugar
---
1 1/2 teaspoons salt
---
1/4 teaspoon pepper
---
1 teaspoon grated parmesan cheese
Preparation
For basting:

In a saucepan, heat oil, add and saute garlic, add barbeque sauce. Stir constantly. Add sugar, stir until it completely dissolves. Add black pepper and basil. Set aside.
For the Italian Dressing:

Mix everything in a bowl, and put the remaining Italian dressing in a container. Refrigerate.
Place leg quarters in a preheated grill, brush with basting mixture every 6 minutes, both sides. Do this 3x until cooked.
Blanch the asparagus briefly and set aside. Drizzle with the Italian dressing and serve together with the grilled leg quarters.
Questions:
Related recipes
Recipes