Grilled balsamic chicken and tomato mozzarella salad
Grilled balsamic chicken and tomato mozzarella salad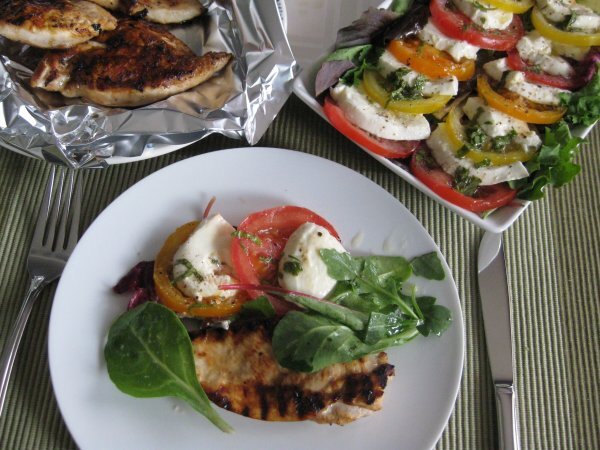 Utterly perfect dressing for your chicken and salad.
Ingredients
---
---
---
---
1 tsp garlic powder
---
515 gm (2)
chicken
breast, split into half
---
3 vine ripe tomatoes of each color
---
250 gm BARI Mozzafina di latte, sliced (fresh mozzarella fraiche)
---
2 handfuls of Herb salad
---
2 tbsp basil, chopped
Preparation
Method:
1. Whisk together first five ingredients for marination and dressing.

2. Pour half cup of the marination in a resealable plastic bag. Add chicken breast, coat with the marinade, squeeze out excess air, and seal the bag. Marinate in the refrigerator at least 1 hour or to overnight.

3. Pre heat oven to 250 f. Lightly grease a ridged pan.

4. Remove the chicken breasts from the marinade, and shake off excess. Discard the remaining marinade and place the chicken breasts onto ridged pan.

5. Cook chicken breasts on both sides until done and no longer pink in the center. Remove cooked chicken breasts on foil and keep it warm in the oven.

6. Cut tomatoes horizontally into 1/4" thick slices.

7. Lay salad leaves onto a flat dish.

8. Arrange tomato and mozzarella slices alternately to create a linear or circular presentation over salad leaves.

9. Add chopped basil leaves to the remaining balsamic vinaigrette. Drizzle the dressing on top of the salad. Season with extra salt and pepper, if desired.

10. Serve with balsamic grilled chicken.
Questions:
Related recipes
Recipes