Grilled eggplant, onion, and red pepper stuffed bread
Preparation
For the dough, using the bowl of a stand-mixer, combine the yeast, sugar, and 4 oz warm water; let stand until frothy.
Combine the flour and salt in a bowl, add the flour to the yeast mixture, and with the machine on low, add 4 oz water and 2 tablespoons extra virgin olive oil.
Continue to mix, adding the remaining water, if necessary, until the mixture pulls away from the bottom of the bowl. Switch to the dough hook, and knead for 6 minutes. Remove from bowl and shape into a ball.
Lightly oil a large bowl, place the dough in the bowl, turning to coat. Cover with plastic wrap and drape with a kitchen towel. Let rise in a warm place for an hour. Deflate dough and place on a floured surface. Roll out dough into a 12x15 rectangle.
While dough rises, prepare marinade and filling:
In a small bowl, combine glaze ingredients and whisk until well-blended; set aside. Partially peel eggplant and slice into 1/4" slices. Peel onion and slice into 1/2" slices.
Drain peppers and blot with paper towel to remove excess moisture. Heat grill pan with 2 teaspoons of olive oil. Once the pan is hot, glaze one side of 4 eggplant slices with the marinade and place eggplant slices, glazed-side down, onto grill pan.
Glaze plain side with marinade, cook for 2 1/2 minutes, turn over, and cook for another 2 minutes. Remove eggplant from pan, and repeat process with remaining eggplant slices, onion slices and bell pepper until have been grilled.
Assembly:
Evenly distribute 1/4 cup of Parmesan cheese over 12 by 15 rectangle of douh. Layer grilled eggplant onto cheese, leaving an 1" edge of dough on all 4-sides. On top of eggplant, layer grilled onions, red pepper, and mozzarella cheese. Sprinkle on remaing Parmesan cheese.
Starting from the long side, roll dough toward you, as you would with cinnamon rolls. Place onto a parchment-lined baking sheet. Cover with a damp cloth and allow to rest for 30 minutes. Bake at 400 degrees for 40 minutes, or until dark golden brown. Let rest for at least 15 minutes hour before slicing.
Convenience Version:
Substitute 1 Pillsbury Pizza crust, classic variety for the homemade dough. Press crust into 12x15 rectangle and proceed with recipe, omitting the rising and resting time. Bake at 375 degrees for about 30-35 minutes.
Photos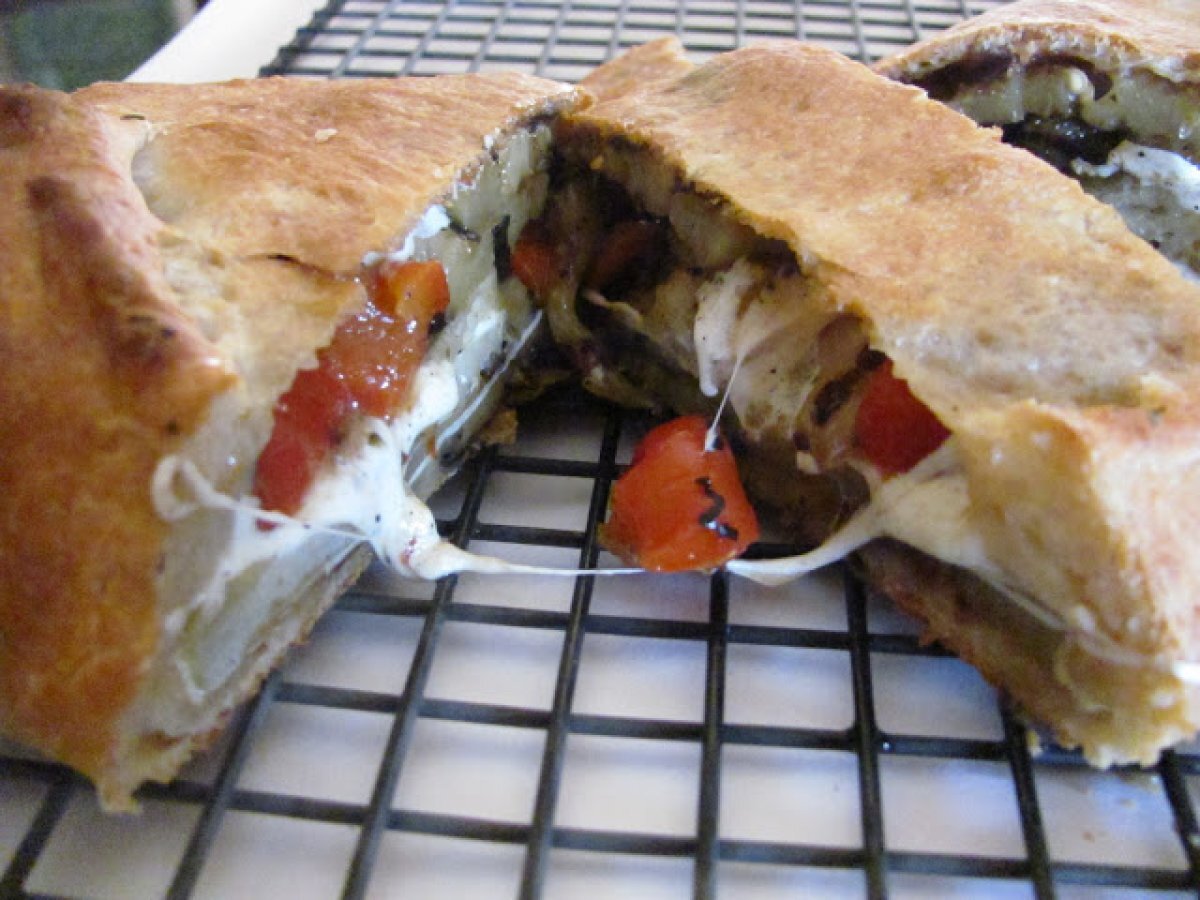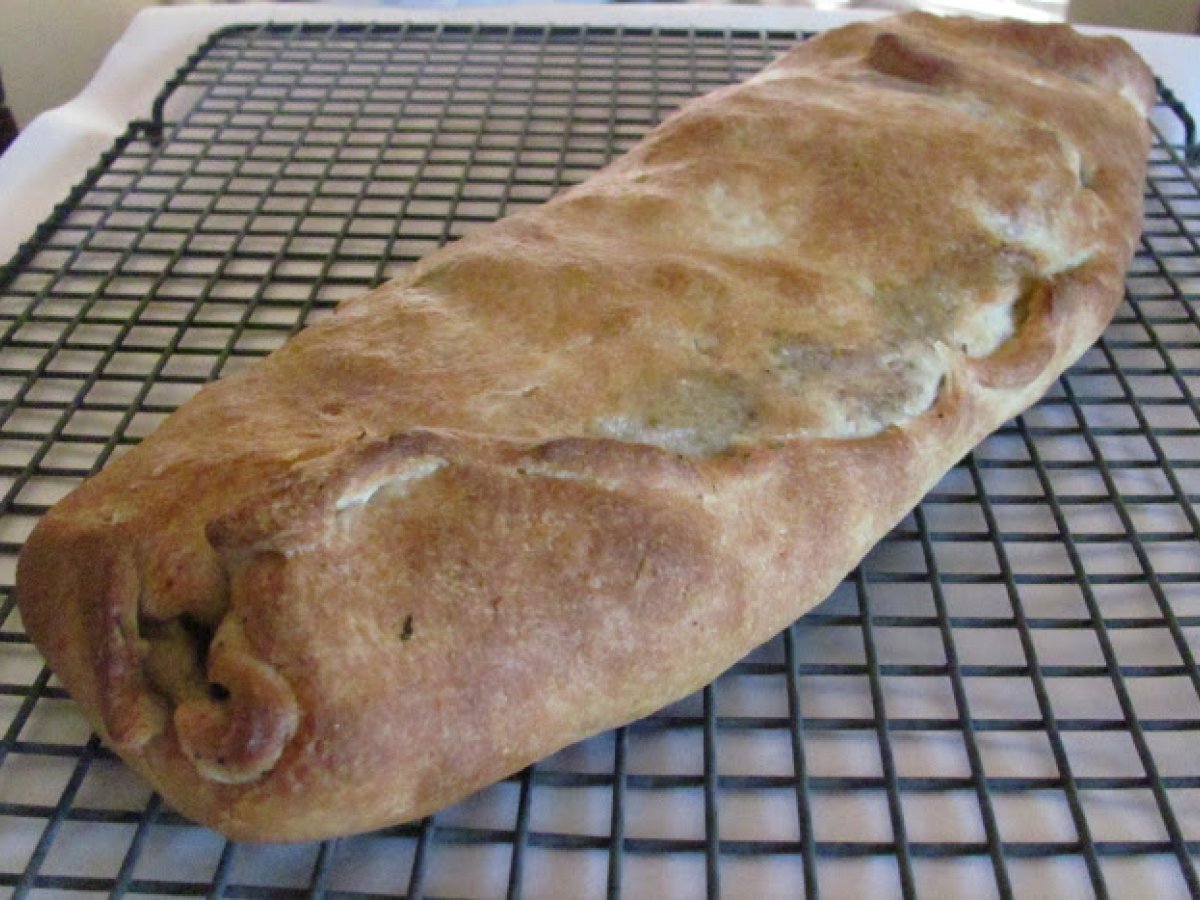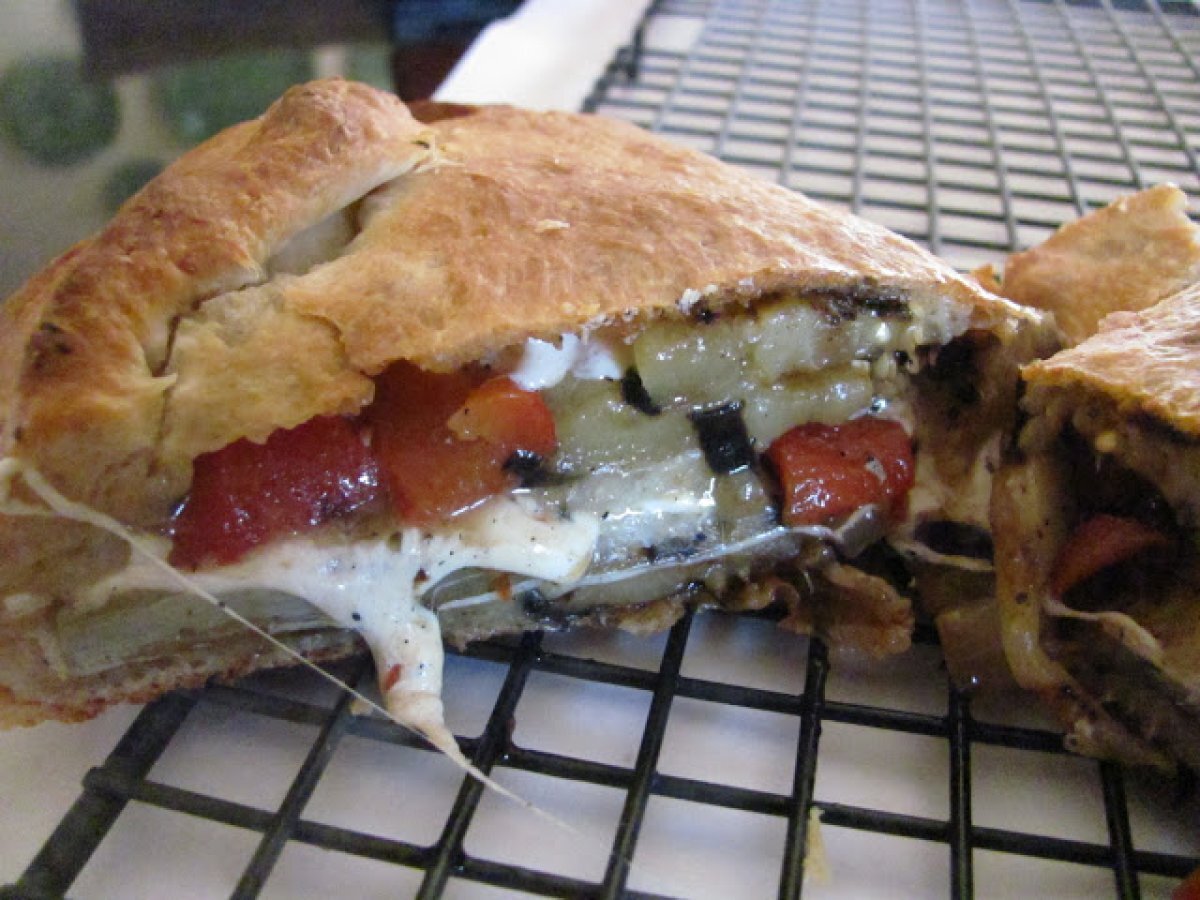 Questions:
You may like
Recipes
Related articles