I got the chicken cordon bleu(s)
I got the chicken cordon bleu(s)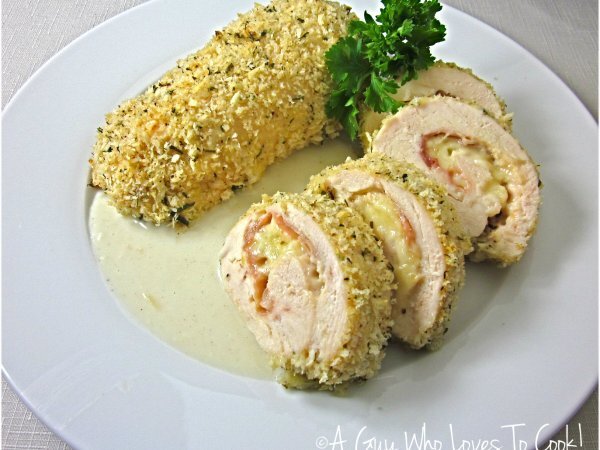 Everyone's favorite chicken classic with some surprise ingredients. Cordon Bleu!
Ingredients
1/4 Cups + 11/2 Tablespoons All-Purpose Flour
---
---
---
6
Cloves
Roasted Garlic, mashed
---
1 Tablespoon Herbes de Provence
---
---
---
1 Cup Panko Breadcrumbs
---
4 Boneless and Skinless Chicken Breast Halves
---
4 Slices Prosciutto
---
1/2 Pound Smoked Gruyere, finely shredded
---
Olive Oil
---
1 Teaspoon White Pepper
---
11/4 Cups 2% Milk
Preparation
Preheat oven to 350ºF. Brush a baking pan with a light coating of olive oil.
Prepare a breading assembly line by putting 1/4 cup of All-Purpose Flour in the first of 3 wide, shallow bowls. Put the beaten eggs in the second. Melt 2 tablespoons of Unsalted Butter in the third bowl and mix half of the Roasted Garlic, the Herbes de Provence, 1 teaspoon of Kosher Salt and 1/2 teaspoon of Freshly Ground Black Pepper to form a loose paste. Add the Panko and stir to combine and there are no lumps in the fluffy breadcrumbs. Set aside.
Slip two Chicken breasts, side by side, into a gallon size zipper storage bag and pound them to about 1/4" thickness. Repeat with remaining two breasts.
Stretch a sheet of plastic wrap on the work surface and place a single, flattened, Chicken Breast on top. Center a slice of Prosciutto on the Chicken and spread 1/4 of the shredded Smoked Gruyere over the slice of ham.
Starting at the longest end, roll the Chicken Breast up like a jelly roll and roll the plastic wrap tightly around the Chicken. Repeat with the remaining 3 Chicken Breasts.
Remove the Chicken roulades from the plastic wrap and dredge in the flour, brushing off the excess. Dip the flour dredged Chicken into the beaten eggs to cover completely and then roll them gently in the Panko mixture. Place the roulades, seam side down, in the prepared baking pan and bake for 45 minutes.
During the last 15 minutes of baking time, prepare the White Sauce by melting 2 tablespoons of Unsalted Butter in a sauté pan over medium heat. When the Butter is bubbling add 11/2 tablespoons All-Purpose Flour and stir to combine. Cook the Butter and Flour for 4 minutes then mash in the remaining Roasted Garlic and the White Pepper and cook, stirring for 1 minute. Remove from heat and slowly whisk in the Milk until completely incorporated. Return the pan to the heat and bring to simmer stirring occasionally until thickened. Remove from heat, stir in 2 tablespoons of Butter until thoroughly blended and cover until ready to serve.

Remove the roulades from the oven and let rest for 5 minutes. Slice each into 1/2" to 3/4" thick slices and serve placed in a pool of the Roasted Garlic White Sauce.
Questions:
Related recipes
Recipes