Kingfish ginger curry / iswana ambat(konkani) / surmai
Kingfish ginger curry / iswana ambat(konkani) / surmai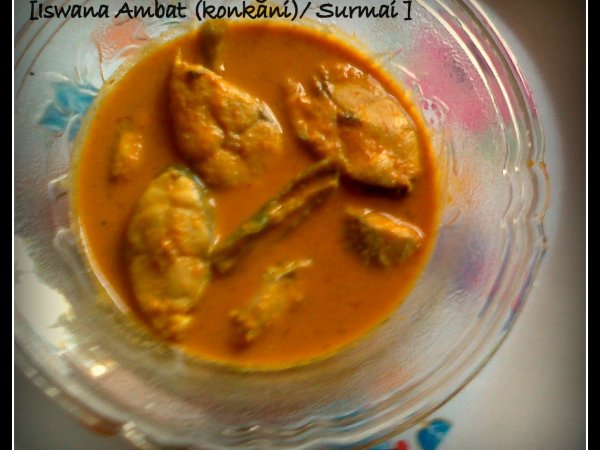 You will find this recipe in most of the Mangalorean homes. Fish Ambat is a very famous recipe in all konkani homes. It goes well along rice/idli/dosa. Mostly for this same curry masala different fish types as also be used. Health-wise, this is a very good recipe. And mostly it is just awesome to have this curry during rainy season. Make one and enjoy with your family.
Ingredients
2 medium kingfish slices
---
---
3 slit green chillies
---
---
1 medium
onion
finely chopped
---
Curry
Paste: Grind the below ingredients into a smooth paste.
---
---
Small marble size tamarind ball
---
1 small tbp turmeric powder
---
10 red chilli, roasted (use only the small red chillies which give more of spice)
---
2 tbsp coriander seeds, roasted
Preparation
Take the Curry paste in a vessel, add consistent water, salt to taste and cook the gravy until it boils well.
When you see the gravy coming to a boil, add the ginger pieces and slit green chilli and let it boil for 2-3 mins.
Now add the fried onions (they should be fried to caramel color as you see in picture)
Let the gravy boil for a minute, now add the fish pieces and switch off the burner. Close the lid and keep the curry for 2-3 mins. The fish gets cooked in the hot gravy. This way of cooking helps to keep you fish meat intact and they do not split. I mostly cook fish in this manner. You will really enjoy the gravy as it gives a unique aroma of ginger and green chilli.
Questions:
Related recipes
Recipes