Meatless monday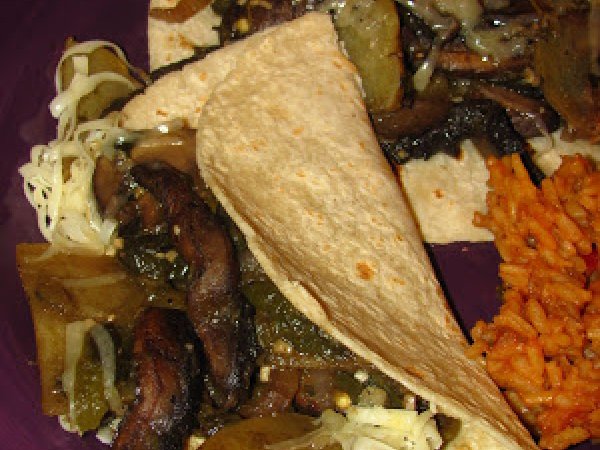 Recipe type:

Main Dish

Number of serving:

4 servings

Preparation:

30 min

Cook time:

20 min

Ready in:

50 min

Difficulty:

Very Easy
Ingredients
- 4 Poblano
peppers
- 2 teaspoons olive oil
- 4 Large Portabello
Mushroom
caps
- 2 medium Yukon Gold
potatoes
- 4
cloves
garlic
- 2 cups thinly sliced red onion
- 2-3 teaspoons
cumin
- 2-3 teaspoons chili powder
- 1/2 teaspoon ground coriander
- 3/4 cup dark beer
- 12 white corn tortillas
- 3/4 cup reduced fat Mexican blend cheese
- The juice of one lime
- 1/2 cup cilantro
Preparation
Step 1
Preheat broiler. Cut poblanos in half lengthwise, and discard the seeds and membranes. Place poblano halves, on a foil-lined baking sheet. Broil for 12 minutes or until poblanos are blackened.
Step 2
Place the poblanos in a zip-top plastic bag, and seal. Let stand 10 minutes. While Poblanos are roasting heat a large saucepan over medium-high. Saute mushrooms, garlic, and onion until softened, about 8 minutes.
Step 3
Add potatoes and garlic, continue to cook until potatoes are softened, another 10 minutes longer. Season with cumin, chili powder, and coriander. De-glaze the pan with the beer and allow to simmer until potatoes are completely soft and liquid is reduced by half and almost completely absorbed- about 5-6 minutes.
Step 4
While mushroom/potato mixture is reducing, remove skin from poblano peppers and rough chop into sliced. Stir into mushroom mixture. Squeeze over the juice of one lime.
Step 5
Assemble tacos by spooning a heaping 1/4 cup of veggie mixture onto each of two tortillas. Sprinkle with about 1 tablespoon cheese, cilantro, and additional lime wedges as desired. Repeat taco assemble for remaining servings.
Questions:
---
---
Related recipes
Recipes