Pan-fried sea bass with roasted red pepper sauce and broccoli puree (visit site!)
Pan-Fried Sea Bass with Roasted Red Pepper Sauce and Broccoli Puree (visit site!)
This recipe was very easy and darn pretty to look at! Although, with the strong flavors of the roasted red pepper sauce and broccoli puree, I think halibut would be a perfect substitute, and a lot kinder to your wallet!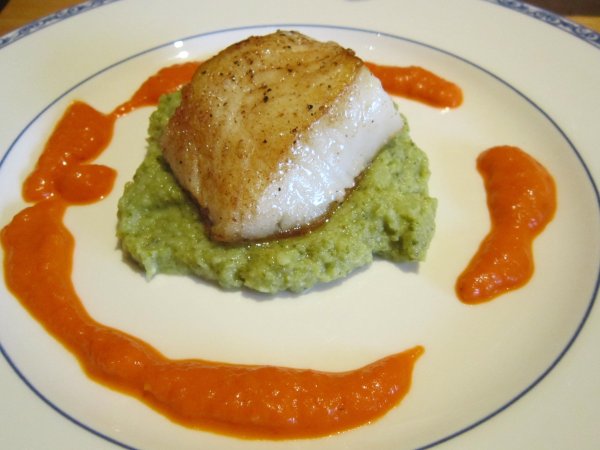 Preparation
For the red pepper sauce
Preheat over to 400 degrees. Set the red peppers on a baking sheet and roast until the flesh is soft and the skin is puckered, 35-45 minutes. Remove the peppers from the oven and put them in a bowl covered with plastic wrap. Set aside for 10 minutes to sweat. Remove the plastic wrap, peel and seed the peppers. Cut the flesh into pieces and set aside.
Heat the oil in a saute pan. Add the shallot and cook until soft. Deglaze the pan with the white wine and cook 1 minute. Add the stock and the cooked red pepper. Cook for 5 minutes. Cool slightly, and puree in a blender. Season with the lemon juice, salt and pepper, then transfer to a small saucepan to reheat in a few minutes.
For the broccoli puree
Bring a pot of water to a boil. Cut the florets off the broccoli stem in even sizes. Salt the pot of boiling water, add the broccoli and leek. Cook until very tender, about 10 minutes. Drain. Drop in the butter and puree with an immersion blender. Taste and adjust the salt. Add pepper, lemon juice and lemon zest, to taste. Serve the broccoli puree hot as a bed for the fish.
For the fish
Season the fillets with salt and pepper. Heat the butter and oil in a skillet (non-stick works well here). Fry on both sides until golden and cooked through, about 4 minutes per side.
To serve
Add a spoonful of broccoli puree to the center of each plate and top it with the fish. Swirl the red pepper sauce around the plate and enjoy!
Questions:
You may like
Recipes
Related articles