Pork pepper-o-nuts!
Pork pepper-o-nuts!
Pork with peppers, and peanuts.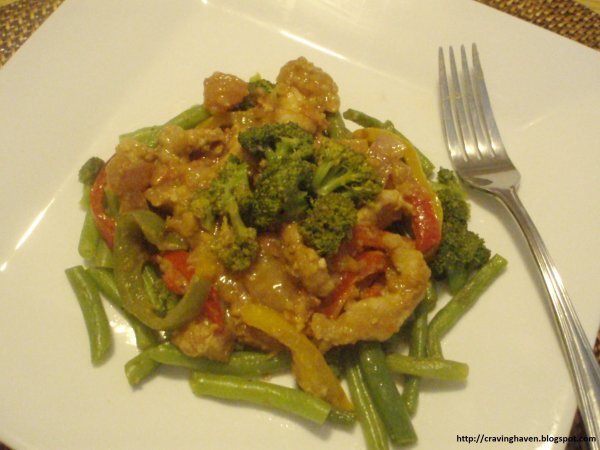 Recipe type:

Main Dish

Number of serving:

6 servings

Preparation:

10 min

Cook time:

15 min

Ready in:

25 min

Difficulty:

Easy
Ingredients
12oz Lean
pork
chops, cut into strips (about 1/2 inch thick)
2 Tbsp olive oil
1 Small
onion
, chopped
1 Tsp
garlic
, minced
1 Red bell
pepper
, deseeded and sliced
1 Yellow bell pepper, deseeded and sliced
1 Green bell pepper, deseeded and sliced
1 Roma
tomato
, chopped
salt and pepper
1/2 Cup unsalted roasted dry peanuts, crushed
2 Cups broccoli, florets
2 Cups green beans
SAUCE:
1/2 Cup homemade chicken stock
1 Tbsp Chinese rice wine
2 Tsp honey
2 Tsp garlic, minced
1 Tsp grated ginger root
1 Tsp olive oil
Preparation
Step 1
Heat oil in skillet. Fry the pork until brown. Remove from skillet, set aside.
Step 2
Add onion, lower heat, cook and stir occasionally for 5 minutes. Add garlic, bell pepper slices, tomatoes, bring to a boil, stir constantly.

Add the pork and stir for 3 minutes.
Step 3
For the sauce, Heat the oil in a skillet, add the peanuts and stir fry. Remove peanuts and set aside.

Add chicken stock, rice wine, soy sauce, honey, garlic, peanut butter, and ginger root.
Step 4
Heat the sauce without boiling and stir in the peanuts, pork and pepper mixture. Stir and cook for 3 minutes more.
Step 5
In a separate skillet, cook the green beans and broccoli and season according to taste. If frozen, steam them and serve hot.

Top with a serving of the pork dish.
Questions:
---
---
Related video
Related recipes
Recipes