Quinoa pilaf with berries and soaked almonds
By
balvinder

light healthy lunch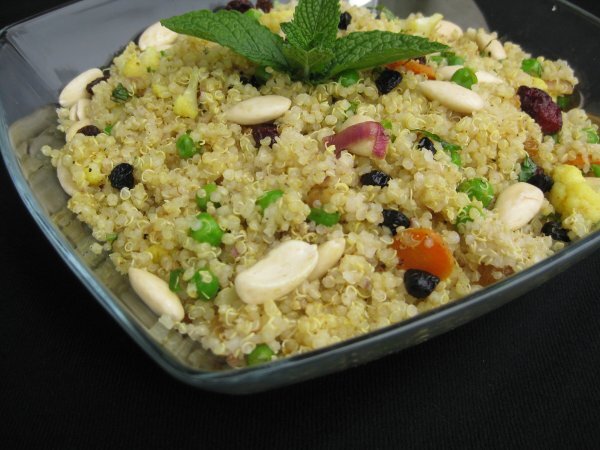 Recipe type:

Main Dish

Number of serving:

3 servings

Preparation:

10 min

Cook time:

25 min

Ready in:

35 min

Difficulty:

Very Easy
Ingredients
175 gm quinoa
475 ml water or broth
1 tsp
salt
1 tsp olive oil
55 gm
carrot
, sliced
65 gm
peas
95 gm
cauliflower
, cut into small florets
65 gm dried
berry
blend ( raisins, blue berries, cranberries)
1/4 cup purple onion, sliced
1.5 tsp curry powder
1/2 tsp turmeric powder
salt as per taste
1.5 tsp freshly ground black pepper
2 tbsp olive oil
juice of half a lemon
1/4 cup cilantro and mint leaves, chopped
handful of unroasted and unsalted almonds
water to soak almonds
Preparation
The right way of prepping almonds is to soak for 8 hours or overnight. ( Soaked almonds are kept handy in my home at all times. We'll talk about it in another post). The other way is to take almonds in a microwave proof bowl. Cover it with enough water. Microwave for 30 seconds. Leave it aside till you need it.
Cooking Quinoa:

1.Soak quinoa in water for 15 minutes. Soaking helps quinoa to cook evenly and loosens up any residue of saponin which can give a bitter taste. However more and more companies are selling quinoa with the saponin already polished off. ( I am used to eating all types of quinoa so sometimes I skip this step)

2.Using a fine mesh strainer rinse quinoa under running water stirring with your hands.

3. Put it in a pot with water, oil and salt. ( If I am not adding lemon juice later in the recipe then I always add a tbsp while cooking. It makes the quinoa more delicious).

4.Turn on the heat and bring it to boil.

5. Once it starts boiling reduce the heat to low, cover with a tight fitting lid and simmer for 15-20 minutes or until it is tender and translucent. When you see that all water is absorbed, remove quinoa from heat and allow to sit for 10 minutes. "Let it sit part" is the key to good quinoa.

6. Fluff quinoa gently with a fork before adding rest of the ingredients.

Prep your vegetables for the pilaf when you are on step 5 of cooking quinoa.
Heat oil in a frying pan on medium. Add onion and cook until translucent. Add in cauliflower and carrots. Cook for 5 minutes and stir in the peas and berry blend. Add salt, turmeric, black pepper, lemon juice and curry powder. Cook until fragrant. Remove from heat and add in fluffed quinoa and chopped cilantro and mint. Stir gently until combined. Taste the pilaf and adjust seasoning if desired. Peel almonds (soaking softens the skin and is easier to peel). Transfer Quinoa pilaf to a serving bowl and garnish with soaked and peeled almonds.
Related recipes
Questions:
By
balvinder

---
---
Related video
Recipes
Related articles