Ricotta gnocchi with spinach, prosciutto and blue cheese
Preparation
Ricotta Gnocchi

Strain Ricotta and put it in a large bowl. Add salt, butter, egg and freshly grated Parmesan. Mix well with an electric mixer until combined. Add semolina and stir it into the mixture with a wooden spoon. Now add the flour gradually and stir briefly, just until combined. The dough will still be quite sticky and that's normal. Of course, you can add more flour at this point, but the more flour you use, the denser the gnocchi become in the end. We want them to be as light and fluffy as possible. Generously flour your working surface and your hands. Take a big tablespoon of the dough, scoop it onto the floured surface and roll into a finger-thick roll. Cut the roll into little "pillows", 2-3cm long. Form each "pillow" into a little ball using the palms of your hands.Place the the balls onto a floured tablecloth or a baking tray lined with parchment paper. Repeat with the rest of the dough.

Meanwhile bring a large pot of water to a boil, add a generous pinch of salt and add the gnocchi. Stir once, so they don't stick to the bottom and cook until they start floating on top. Depending on their size this may take 3-4 minutes. Take out with a skimmer, pour some olive oil over them and serve immediately.


Spinach, Prosciutto and Blue Cheese Sauce

In a non-stick frying pan, heat 2 tablespoons of olive oil. Add Prosciutto and garlic and sauté until crispy. Add the spinach, salt and freshly ground pepper and cook until spinach has wilted. Remove from heat and mix with cooked gnocchi. Keep warm.

Meanwhile, return the pan on medium heat and add blue cheese. Cook, stirring constantly until it melts. Add milk, Parmesan cheese and sour cream. Season to taste and add some fresh thyme and basil. Cook for a few minutes, until the sauce blends together and thickens.

Put the gnocchi mixed with spinach and Prosciutto onto plates and drizzle with some blue cheese sauce. Serve with a refreshing salad of your choice and a glass of white wine.
Photos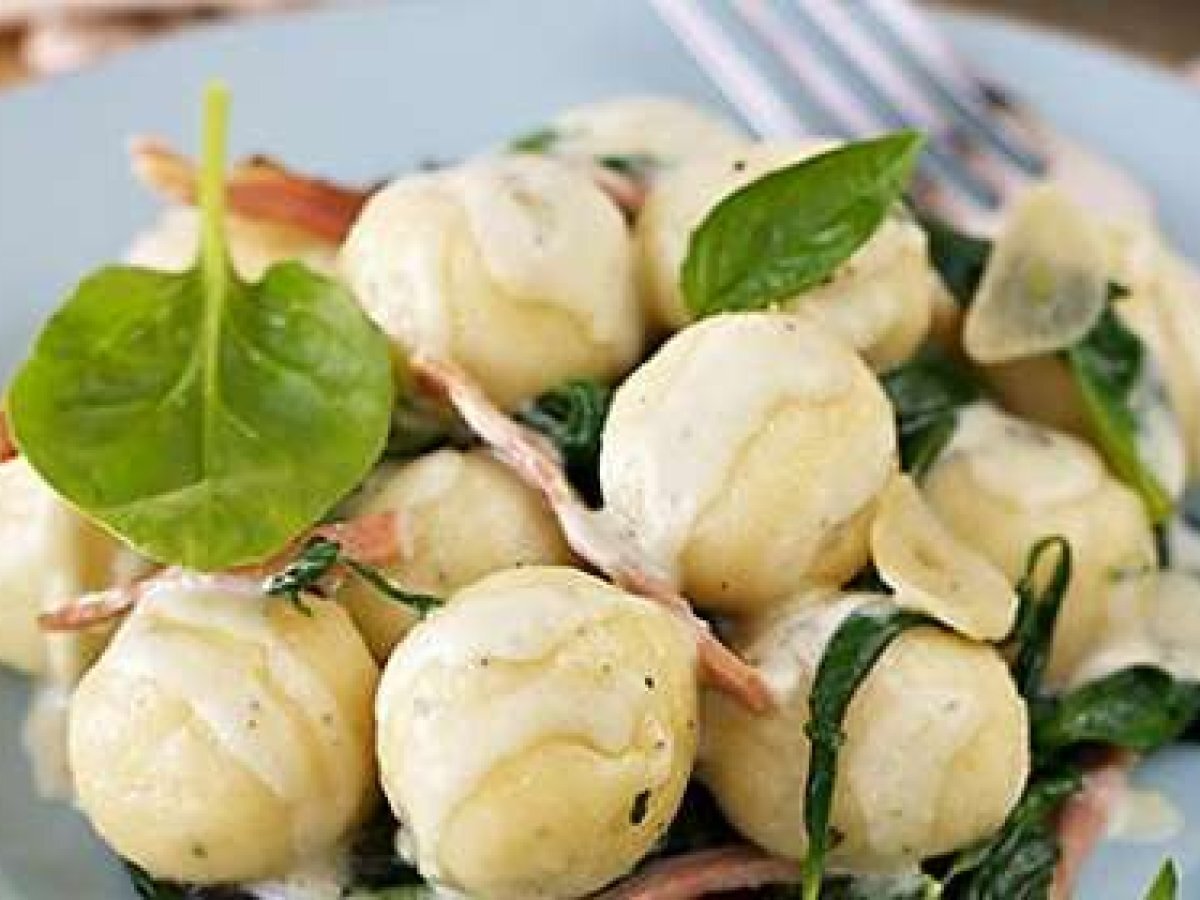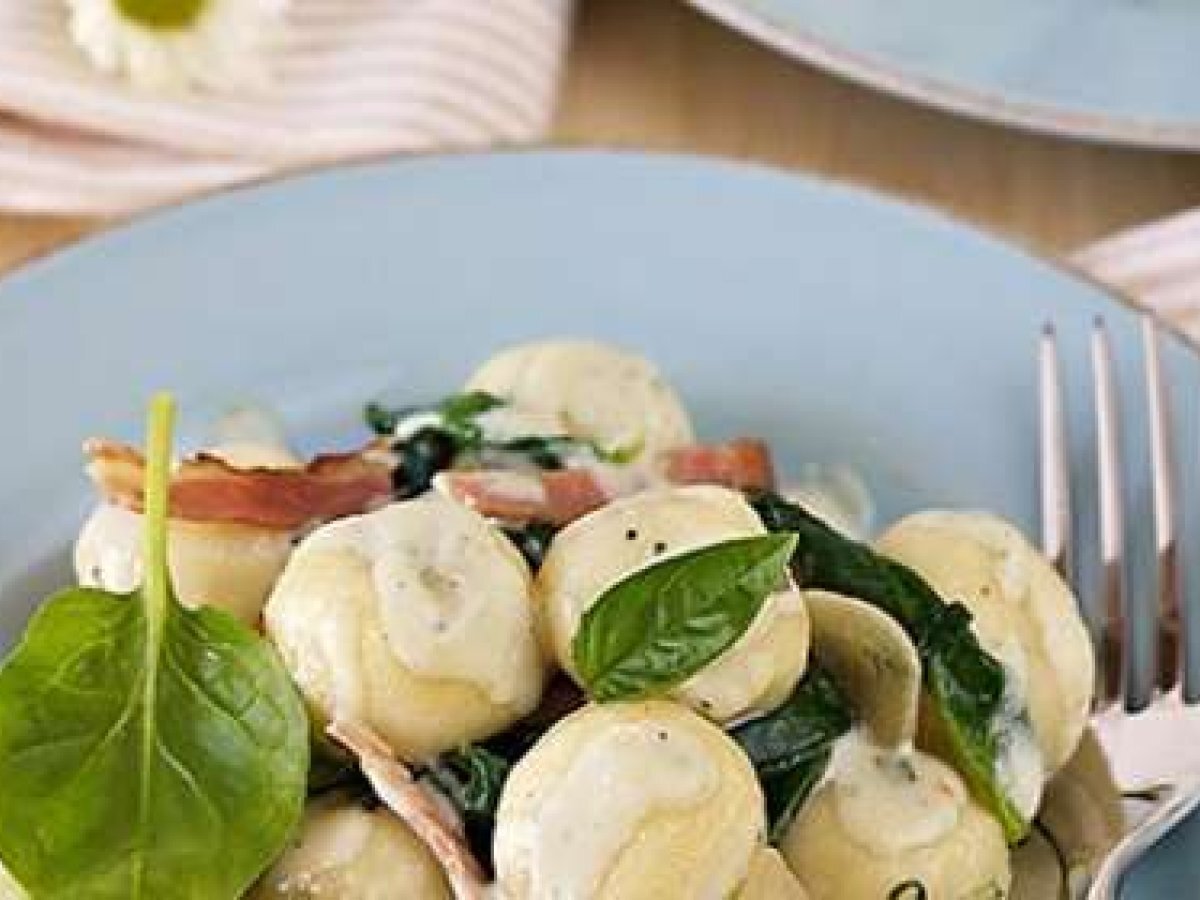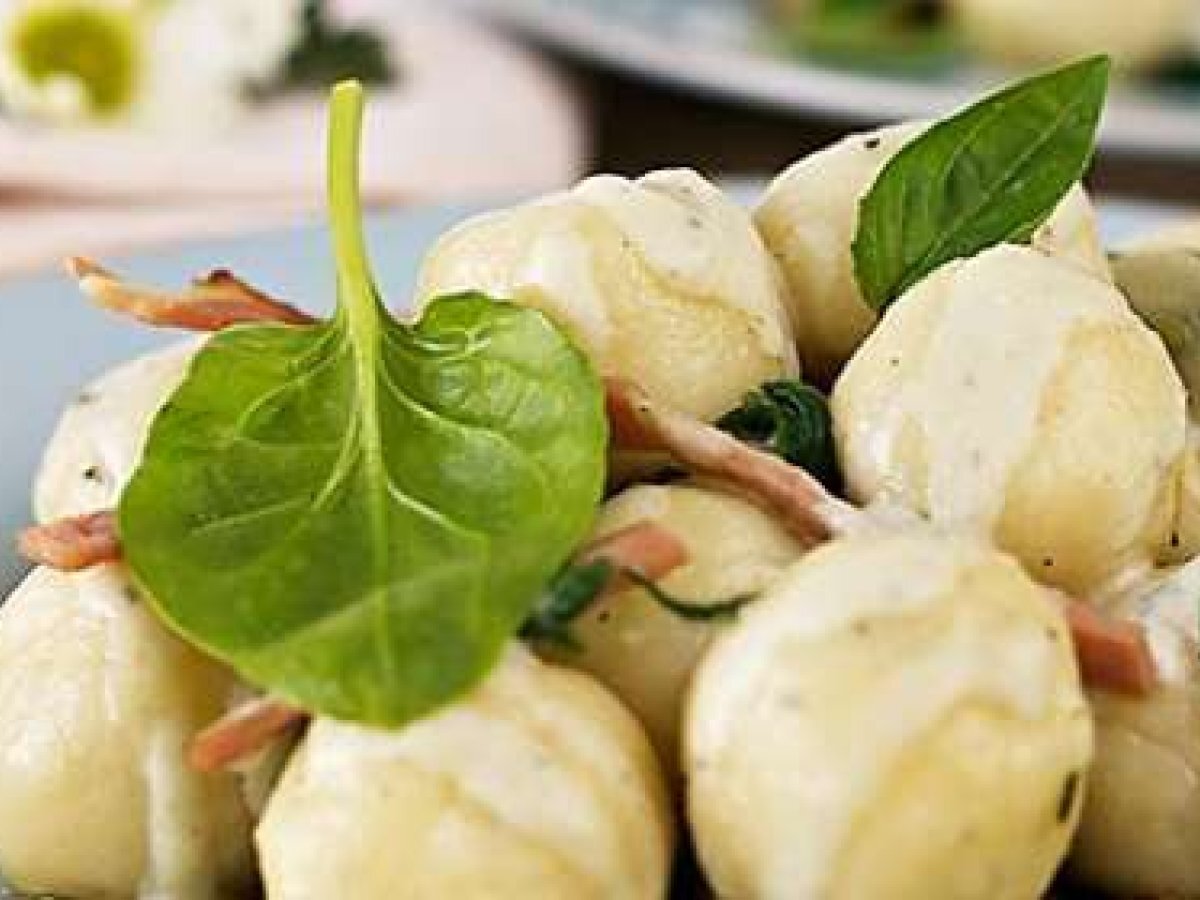 Questions:
You may like
Recipes
Related articles