Roasted pork loin crown roast
Roasted pork loin crown roast
The orangery sweet vinegar brine is perfect for pork. Many folks fill the center with a stuffing of bread and fruit, but I chose all fruit instead. Dried apricots and plums soaked all day in brandy and orange liqueur, seasoned with spices and before roasting, I added apples and satsumas to the mix.
Ingredients
---
1 cup orange marmalade
---
1/2 cup
apple
cider vinger
---
1/4 cup rice vinegar
---
---
---
---
1/2 teaspoon crushed pepper flakes
---
2 garlic cloves, smashed and chopped
---
1 small onion, chopped
---
1 cinnamon stick
---
1/2 teaspoon whole black peppercorns
---
1/4 cup kosher salt
---
1 1/2 cups dried apricots
---
1/2 teaspoon ground cinnamon
---
1/4 teaspoon ground nutmeg
---
1/4 teaspoon ground cloves
---
1/2 cup brandy or cognac
---
1/4 cup orange liqueur or cointreau
---
-1/2 cups dried plums
---
1 crisp apple, peeled, cored and sliced into wedges
---
1 crisp pear, peeled, cored and sliced into wedges
---
2 satsumas or tangerines, sectioned and seeds removed
Materials
large roasting pan
---
kitchen twine
---
Preparation
For each rib rack, pork loin or 5-8 pork chops:
Combine ingredients in a saucepan, bring to a boil and then simmer on low for 30 minutes. Let cool completely before using as a marinade for meats. After several hours, add a handful of ice if needed to help cool it down.
Brandied Fruit Stuffing:
Heat the first 6 ingredients in a sauce pan to a low simmer, cover and turn off heat. Stir after several hours and reheat again. Essentially, the apricots will soak up all of the liquid and become plump. Right before placing in the crown of the roast, stir in the remaining fruits.
Make the marinade and place the loin in a large sealable bag with the brine. Flip the bag over every 12 hours or so and refrigerate for about 2 days.

Remove the rack from the marinade, pat dry and rub all over with olive oil. Season lightly with salt and pepper. Form the crown and with kitchen twine, tie the roast just under the rib and again toward the bottom of the loin. Place in a large roaster or pan and let rest for about an hour to reach room temperature.
Preheat oven to 450 degrees F. with the oven rack in the bottom third of the oven.

Fill cavity with the soaked fruits. I placed a few pats of butter on the fruits.

Place pan in the oven and turn temperature to 325 degrees F. Roast until internal temperature of the meatiest part of the loin reaches 145 degrees F. Remove from oven and cover with foil, residual cooking should rise to about 150 degrees.
Carefully plate to a large serving platter using a wide spatula to move the fruit filling with the roast. Cut the strings. Remove foil from the tips. Place kumquats on each tip if available.

Carving the roast is easy, just slice between each rib to yield a nice serving size per guest, although if like mine, they will come back for seconds. Some folks like to carve the rib from the loin creating a nice filet of meat
Observations:
About the rack: The easiest thing to do is to have your butcher prepare the rack(s) for you but you can certainly do it yourself. Purchase whole pork loins with ribs attached. Your butcher will be glad to point you in the right direction. With the rib side facing up, slice with a sharp knife between each rib just enough to allow the roast to bend. Be sure to leave a good layer of fat on the rib side to keep the loin moist during roasting, you can cut it away before serving if needed. Do not cut into the loin part at the bottom of the ribs. The rack should bend and form a circle easily but you will be able to tell where additional cuts are necessary. Trim the meat from the tip of each rib, about an inch down and cover with a square of foil. This will prevent the end bone from charring.
Photos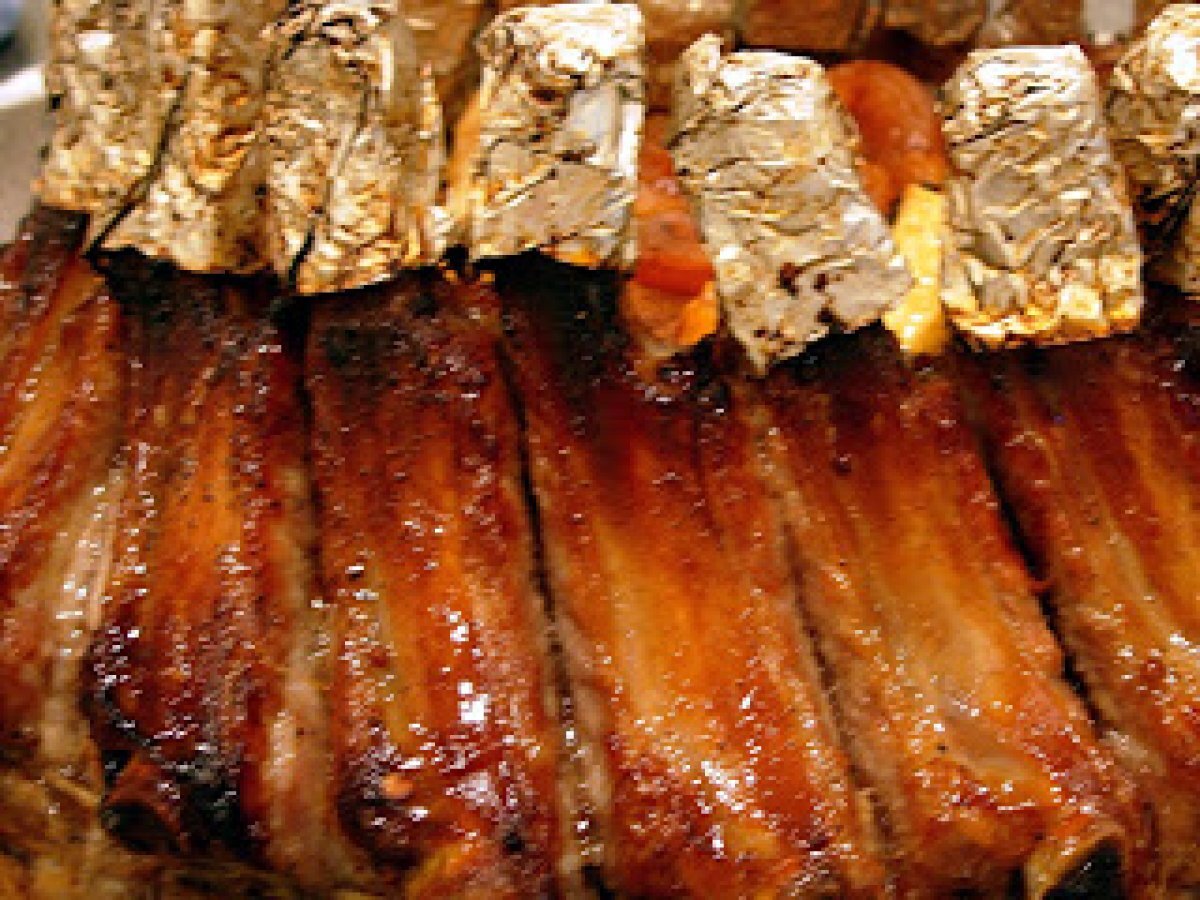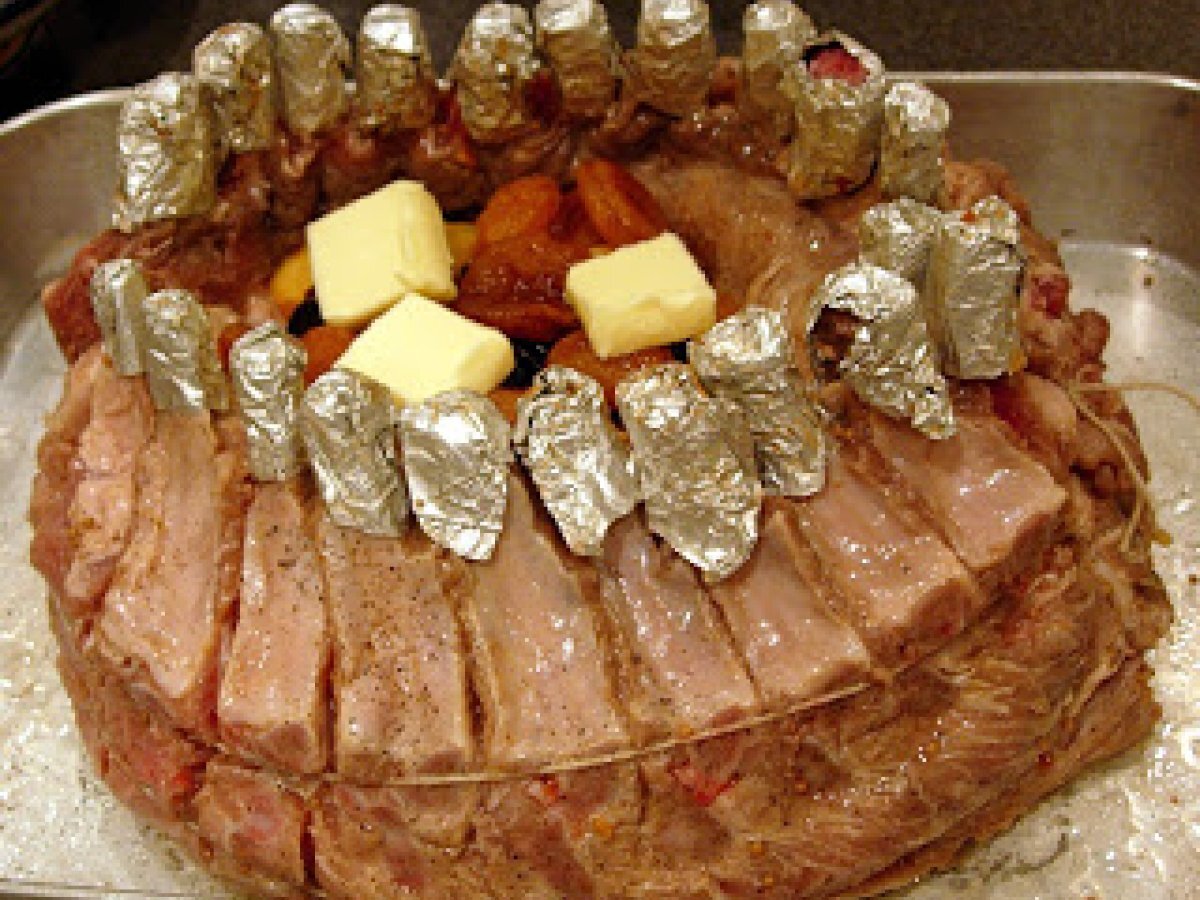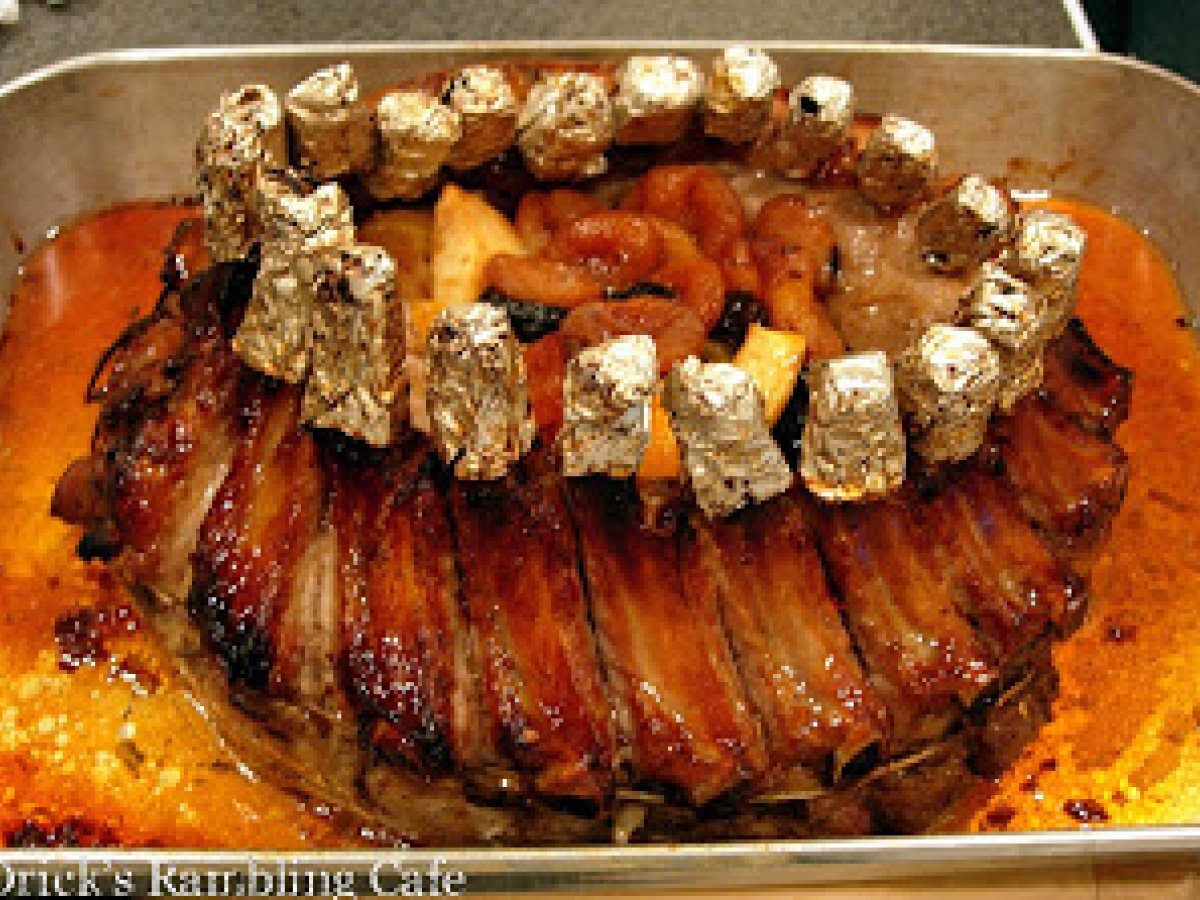 Questions:
Something is missing in the instruction for cooking. How long to marinade the pork and how to cook the pork missing from instruction----- Thank you,
Answer:
Thank you so much ... indeed something did not take on upload. It should now be corrected...
Related recipes
Recipes