Roasted pork chops with apple chutney
Roasted pork chops with apple chutney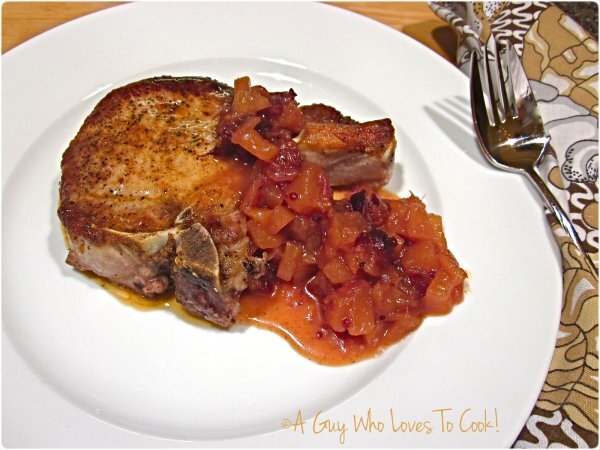 Savory pork chops with a delicious apple chutney topping
Preparation
Melt 1 tablespoon of the butter together with the jam in a small sauté pan over low heat. Stir in the vinegar, ginger, salt, curry powder and onion then nestle the cinnamon stick into the bottom of the pan. Reduce the heat and simmer for 10 minutes uncovered.
Add the apples and cranberries to the pan, stirring to coat with the liquid. Cover and simmer for 1 hour stirring every 20 minutes. Remove from heat and allow the chutney to cool to room temperature in the pan then remove the cinnamon stick before serving.
Preheat oven 400ºF. Season the pork chops on both sides with salt and pepper.
Heat a cast iron skillet over medium-high heat. Add 1 tablespoon of canola oil to the pan and heat until shimmering. Lay the chops in the pan and sear until browned on 1 side, about 3 minutes. Then sear the fat edge of the chops by holding them with tongs against the bottom of the pan for 1 minute. Don't crowd the pan - sear the chops in batches, setting the first ones aside on a platter while searing the second batch.
Turn the chops over with ½ tablespoon of butter placed under each chop and immediately transfer the pan to the oven. Roast the chops until an instant-read thermometer registers 145ºF – check at about 7 minutes. Remove chops to serving plates and cover loosely with foil to rest for 5 minutes. Deglaze the skillet with the remaining 1 tablespoon of butter, scraping up the cooked on bits in the bottom of the pan.

Drizzle the content of the skillet over the chops and serve with a spoonful of chutney.
Questions:
You may like
Recipes