Seafoods kare-kare
Seafoods kare-kare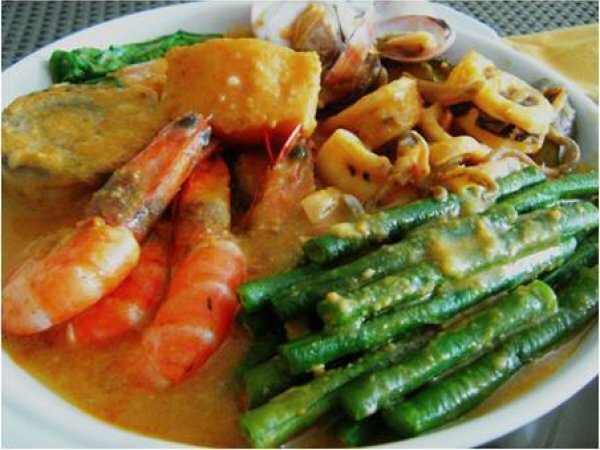 Preparation
Wash the squids. Remove the ink. Cut into rings. Set aside.
Wash the clams. Drain. In a pot, cook the clams with 1 cup of water. Cover and cook. It's done when the shells opened up. Discard the unopen shells. Reserve the broth for later use. Set aside the cooked clams.
Wash the shrimps. Drain. Set aside.
In a bowl, dissolve the kare-kare mix in 1 cup of water. Set aside.
Heat pot over low heat. Add oil and annatto seeds ( to make annatto oil or atsuete oil). When the oil turns orange, remove the seeds.
In the same oil saute onions and garlic. Add in the squid and the shrimps. Cook for about 2 minutes. Remove the squids and shrimps from the pot (We do not want to overcook the seafoods). Set aside.
Pour in the reserved clam broth, dissolved kare-kare mix and 3 cups of water. Let boil.
Drop in the fish fillet and banana blossom.
Add peanut butter. Season with salt. Cover and simmer for 10 minutes.
Add string beans and eggplant. Cook for another 5 minutes.
Toss in the cooked clams. Add the dissolved cornstach to thicken the sauce. Add the previously cooked squids and shrimps. Cook for another 2 minutes.
Serve with bagoong and rice. Enjoy!
Questions:
You may like
Recipes