Gobi mattar:purple cauliflower and pea curry
Gobi mattar:purple cauliflower and pea curry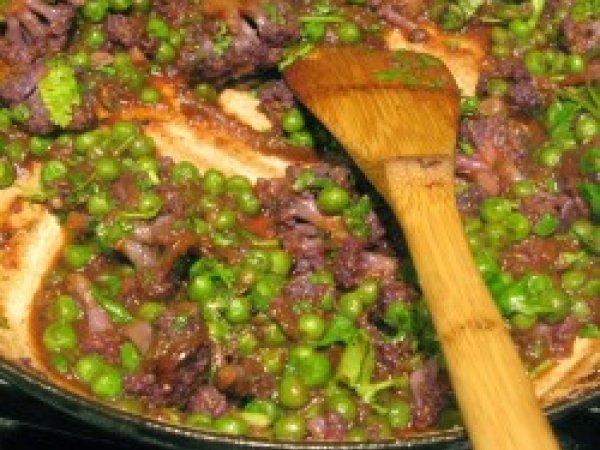 This recipe is better for you. Otherwise, nutritionally speaking, purple and white cauliflower are exactly the same–low in calories, high in fiber, no fat, with a nice amount of vitamin A, folate and vitamin K.
Preparation
Heat ghee or oil in a heavy-bottomed deep skillet over medium high heat.
Add onions, and sprinkle with salt and cook, stirring, until the water is cooked out of the onions and they are a deep golden color.
Add cauliflower, mustard seeds and cumin seeds, and cook, stirring, for another couple of minutes. Add ginger and garlic pastes, and cook, stirring, until the onions are a deep reddish brown.
Add water, and cover skillet and turn heat down to low. Allow to simmer until the cauliflower can be pierced with a fork, but is not mushy.
Add peas, and if needed a little bit of water to make a curry sauce. Sprinkle pappula podi over the vegetables, and stir to thicken sauce.
Add lemon juice, simmer for another minute and then taste for salt. If needed, add some–but you probably won't need to.
Stir in chopped cilantro leaves and serve immediately.
Questions:
Related recipes
Recipes
Related articles