Tortellinis with parmesan, prosciutto and basil
Tortellinis with parmesan, prosciutto and basil
or
A step by step italian recipe, a new way to have pasta, and homemade as well!
Ingredients
- 1.5 cups flour
---
---
---
- 3 ounces prosciutto
---
---
Materials
Rolling pin
---
Preparation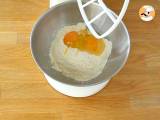 Step 1
Combine the flour, the eggs and the olive oil, and knead well.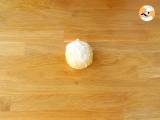 Step 2
Wrap the dough, and put in the fridge for 1 hour.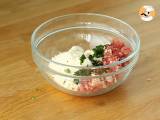 Step 3
Thinly cut the prosciutto, and mix it with the parmesan and the chopped basil.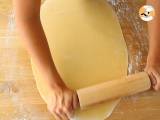 Step 4
Roll the dough out the most finely possible.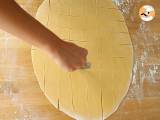 Step 5
Cut the dough in little squares (1.5 inches) using a pizza roll. Try to make the squares as perfect as you can.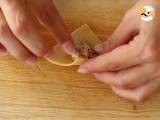 Step 6
Take a square of dough, and apply some water on the edges using your finger. Put a little bit of stuffing in the middle, and fold the square to form a triangle.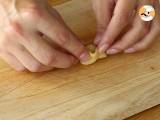 Step 7
Fold once more, bringing the base of the triangle on its edge (as shown in the video). Then, take the 2 edges and stick them together in the middle.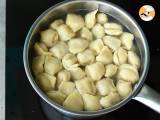 Step 8
Once all your tortellinis have been made, put them in boiling water for 5 minutes.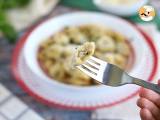 Step 9
There you are, your tortellinis are ready!
Nutritional informations (for 1 serving):
* Percent daily values are based on a 2000 calorie diet * 1 serving = 325g
ProPoints:
27
(1 serving)
SmartPoints:
30
(1 serving)
---
---
Related recipes
Recipes
Related articles