Parmesan chicken with roasted romaine lettuce
Parmesan chicken with roasted romaine lettuce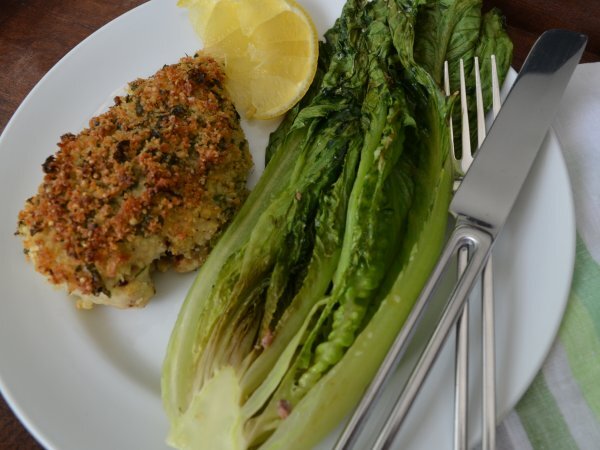 This roasted chicken is a great low-fat and healthy alternative to fried chicken. Topped with panko and Parmesan cheese and seasoned with fresh garlic, this recipe will become a favorite in your kitchen.

Inspired by "Bon Appetit" from March 2012.
Preparation
Preheat oven to 450°F.

Line a large cookie sheet with heavy duty aluminum foil. Season chicken breast with salt and black pepper, place on prepared sheet.

In a small bowl, mix together breadcrumbs, Parmesan cheese, 2 tablespoons of olive oil, parsley, and 1 chopped garlic clove.
Place panko mixture onto chicken, and pat lightly. Roast chicken for about 10 minutes, until crumbs turn golden brown.
Drizzle romaine with 1 tablespoon of olive oil, sprinkle with the chopped garlic clove, and season with salt and pepper. Remove sheet from oven, and place romaine halves around chicken. Roast another 5 minutes, until chicken is done, and lettuce is lightly brown on the edges. Top lettuce with chopped anchovies, if desired.
Serve roasted chicken breast and romaine lettuce with lemon wedges to enhance the taste. This is a truly excellent dish, super-fast and healthy. I know you will enjoy it.
Questions:
You may like
Recipes