Akki halbai/ rice halwa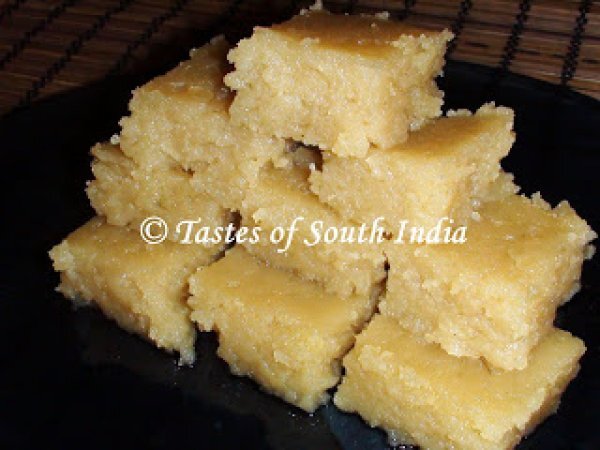 Recipe type:

Other

Number of serving:

15 servings

Preparation:

45 min

Cook time:

0 min

Ready in:

45 min

Difficulty:

Very Easy
Ingredients
Preparation
Step 1
Soak the Rice in water, for about an hour. Grind it to a fine paste with adequate amount of water.
Step 2
In a vessel, pour about 1/2 cup water and melt the Jaggery. Strain this melted Jaggery into the Rice batter. Add Coconut milk and mix well.
Step 3
The overall consistency of this mixture may be watery. In a thick-bottomed pan, add a tablespoon of ghee and pour the mixture and keep stirring it on medium heat.
Step 4
Continue stirring as the mixture starts to solidify. It will aggregate into one mass.
Step 5
At this point, add the Cardamom powder. Continue to mix for atleast another 20-25 minutes. Add the remaining ghee little by little, and continue to mix well.
Step 6
The end point of this process is when the halbai has left the sides of the pan totally and the ghee has oozed out of it and is separate.
Step 7
Allow it to cool on a greased plate and you may cut it into desired shape.
Related recipes
Questions:
---
---
Related video
Recipes