Caramel topped cream puffs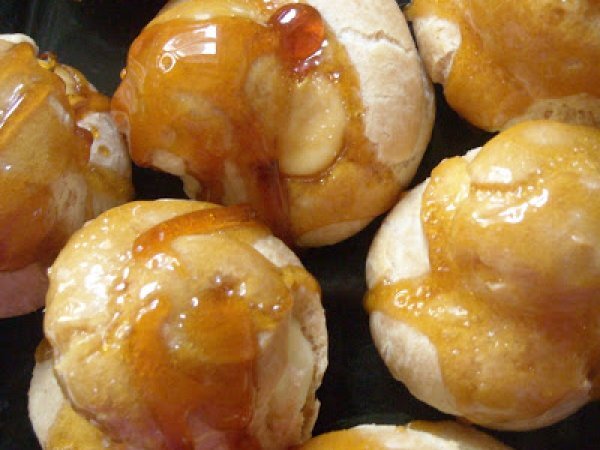 Preparation
1)Pastry Cream:
In a heavy saucepan, bring the milk and sugar just to a boil. In a separate bowl, combine all the eggs, cornstarch and sugar and beat until smooth. Once the milk mixture starts to boil, pull off from heat. Slowly whisk in small amounts of hot milk mixture into the egg mixture (tempering). Once the egg mixture is warm-hot to touch, pour all the milk mixture into the egg mixture and whisk until completely incorporated. Transfer the mixture back into the heavy saucepan and stir constantly while bringing to boil. Make sure to constantly stir so as not to burn the bottom of your pan. You can lower your heat to avoid this problem. Continue cooking until the raw cornstarch taste is gone. Remove from heat. Stir in the butter and vanilla extract until completely incorporated. Pour into a clean and shallow pan then cover with plastic wrap. Make certain that the plastic wrap cover is touching the top of the cream mixture in all surfaces to avoid crust from forming. Chill.
Pastry cream mixture as cream puff filling: combine pastry cream and whipped cream to create that soft and smooth filling for the cream puffs. Use the ratio of 1 quart pastry cream to 1/2 cup to 1 cup of whipped cream. If you need to use the pastry cream as a tart or as a cream pie filling, use pure pastry cream, simply beat the mixture until smooth before usage. Using pure pastry cream creates a more stabilized mixture that can hold up by itself. Beat chilled pastry cream until it is smooth. Fold in the whipped cream until completely blended in. Transfer mixture into a piping bag with a medium sized round tip. Fill the cream puffs with pastry cream mixture until the puffs feels heavy. Assemble the puffs in a wire rack on top of a sheet pan lined with parchment or wax paper. Allow about an inch of space between the puffs to make the pouring of caramelized sugar easier.
For Caramelized Sugar:
Using a heavy medium to large sized saucepan, combine water, sugar and corn syrup. Make sure that all the sugar is wet before you turn on the fire. Double check that no crytals of sugar are on the side of the pan. You can use a pastry brush dipped in water to wash it down to avoid crystallization. Bring mixture to boil. When it starts boiling, brush down the sides of the pan again to avoid sugar crystallization.
Related recipes
Recipes