Curry chickpeas (garbanzo beans)
Curry chickpeas (garbanzo beans)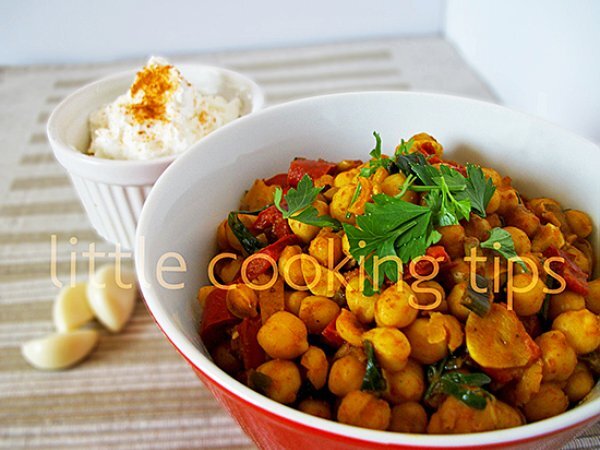 This version, which we tried and suggest, is quite different and full of aromas of the Orient. Adding sweet Italian peppers and Indian spices, we prepared a dish that will make you have chickpeas more often on your table!
Adding Greek yogurt on the side of this dish is a must.
Ingredients
250gr
chickpeas
(raw; if you are using canned or cooked chickpeas, then use 600gr)
---
3 Italian sweet peppers (300gr), cut into small cubes
---
3 garlic
cloves
, finely chopped
---
1/4 bunch
parsley
(20gr), finely chopped
---
---
120gr spring
onion
(1 item)
---
1 cup (250ml) warm water
---
4 tablespoons fresh lemon juice
---
2 teaspoons cumin
---
3 teaspoons carry powder
---
2 teaspoons coriander powder
---
4 teaspoons sweet paprika
---
salt & pepper
---
1,5lt warm water for cooking the chickpeas
Preparation
We put the chickpeas in a large bowl and cover them with water overnight (approximately 12hours). The volume of water in the bowl must be at least three times the volume of the chickpeas.

We drain them and put them in a pot with the 1,5 lt of water and simmer for 1 hour and 20 minutes (medium heat). We then remove from the heat, drain them and leave aside.
We put the olive oil in a deep frying pan, on medium to high heat. Once hot we add the cumin. We stir for a few seconds and then we add the sweet peppers, the onion, we sprinkle with a bit of salt and sautee for 3 minutes, until soft.

We add the garlic cloves, stir for half a minute and pour the cup of water.
We add the carry, the coriander, the pepper and the paprika, stir and add the cooked and drained chickpeas.
We stir carefully (to avoid mashing the chickpeas) and continue to cook for another 8-10 minutes. The chickpeas are ready once they have absorbed all the water. Enjoy!
Questions:
Related recipes
Recipes