Low carb banana coconut whoopie pies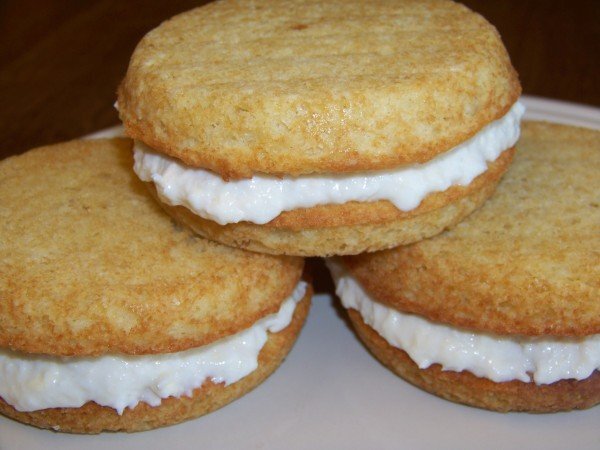 Recipe type:

Other

Number of serving:

3 servings

Preparation:

25 min

Cook time:

20 min

Ready in:

45 min

Difficulty:

Very Easy
Ingredients
- 1 ¼ cups
almond
flour
- 1 cup Carbquick
- ¼ teaspoon xanthan gum
- ½ teaspoon
salt
- 1 teaspoon baking powder
- ½ teaspoon baking soda
- ½ cup unsalted butter
- ¾ cup granular erythritol
- ¼ teaspoon stevia
- 3
eggs
- 1 Tablespoon
banana
extract
- ¼ cup sour milk or buttermilk
- ½ teaspoon vanilla
- ½ cup unsalted butter, softened
- ¾ cup powdered erythritol
- 1 jar Walden Farms
Sugar
Free Marshmallow Dip
- ½ cup finely grated unsweetened coconut
Preparation
Step 1
In medium bowl – combine the almond flour, Carbquick, xanthan gum, salt, baking powder, and baking soda; mix well and set aside.
Step 2
In a separate large mixing bowl, cream the butter, granular erythritol and stevia together. Add the eggs, mashed bananas, butttermilk, and vanilla and beat thoroughly.
Step 3
Beat in the dry ingredients. Drop by rounded tablespoons full onto greased non-stick muffin top baking pans. Spread batter evenly into each muffin top circle.
Step 4
Bake at in a preheated oven at 350° for about 12 minutes, or until the cakes spring back when pressed lightly in the center. Remove from the muffin top pans to wire racks. Cool completely before spreading with the filling.
Step 5
Mix filling ingredients. Spread filling on one cake with generous amount of filling. Top with another cake, pressing down gently to distribute the filling evenly between the cakes. Repeat with all cookies to make 6 pies.
Questions:
---
---
Related video
Related recipes
Recipes
Related articles
How to choose a coconut?